All fun and games? The effects and implications of Battle of the Sexes
Most students anticipate the annual Battle of the Sexes spirit week, which concludes with a climactic Battle of the Sexes pep rally. The spirit week consists of enjoyable dress-up days: pajama day, twin day, -er day, and pink versus blue day. At the end of the week, opposing teams compete in games like family feud, a tug of war, and others. Each team earns points by participating in dress-up days, lunch games, and spirit games at the pep rally. At the end of the rally, the team with the most points wins.
ASB has continued to host the event in order to promote school spirit, encourage unity, and create a fun environment for students to enjoy. "We mean for it to be a friendly competition between the guys and the girls," Senior Class President Avalon Johnson said.
Many students appear to enjoy the event and find it to be entertaining. Shouts and cheers could be heard resounding throughout Caiman Hall during the pep rally, proving just how much spirit is brought on by the event. However, although many students find the spirit week to be enjoyable, there also exists a noteworthy camp of students who find Battle of the Sexes to be offensive and hurtful.
Battle of the Sexes creates rivalry between males and females that can quickly escalate to a harmful degree.
"It reveals the fundamental issue that boys and girls are still thought of to be against each other," sophomore Megan Oakes said. "We can't be pitting men and women against each other. Men should be for women and women should be for men."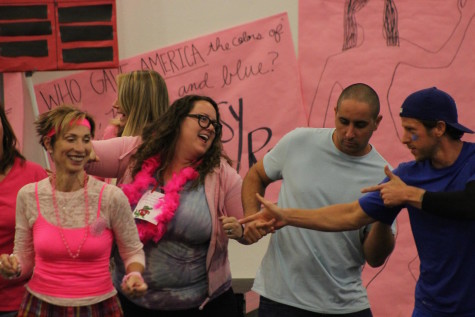 The provocation of an age-old rivalry between genders has the potential to create a hostility and tension that far exceeds the playful competition of Homecoming Spirit Week. This animosity has reached sobering new heights at other schools. As far back as 1998, the Battle of the Sexes pep rally at McClintock High School in Tempe, Arizona escalated when the boys chanted, "Pork chop, pork chop, good and greasy, McClintock girls are easy." The Associated Press also reported a boy and a girl wrestling in gelatin, boys wearing T-shirts reading "Girls suck" and sexually suggestive actions that were reminiscent of rape during the pep rally.
"We always have been a different school," Ms. Judy Zazvrskey said.  "I would like to think that because we are kind of like a family … we can support each other, respect each other and still have this activity, but make it so people are all included."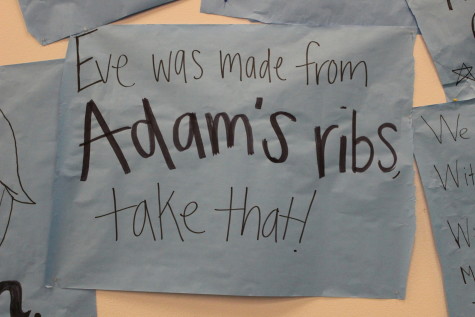 Unfortunately, it seems like our school is not as far away from McClintock High School as we might hope. Some students reported hearing sexist conversations that arose following the rally, far exceeding the playful spirit that the event was meant to embody. Certain posters in Caiman Hall — which ASB later took down due to the offensive material — included hurtful quips such as, "There have been 44 presidents and none of them have been female"  This sign and others were shockingly reminiscent of McClintock High posters, one even reading "Girls, go back to the kitchen."
In anticipation of the potential for harm, teachers and faculty members wore wore lanyards that read, "Battle of the Caimans: excellence knows no gender." The lanyard's message was to "show that ASB…in no way is claiming that one gender is inferior or superior to the other," said ASB President Tanner Mizel.
But the lanyards left some students wondering: if a school event generates a recognized, anticipated potential for harm, why would we continue to have it?
In addition, Battle of the Sexes Spirit Week makes the assumption that there are only two genders amongst the student body. There are many transgender students and non-gender conforming students — people who do not fit the definition of male or female — who feel ostracized and forgotten because of the pep rally. "It's like, 'Do we not exist? What are we? What do we wear? What do we do?' It leaves us out," transgender student Parker Barry said.
Even if students do not agree with non-gender conforming individuals' lifestyles, there needs to be acknowledgement and respect on a school-wide level. This is, and should always be, a school where students feel that they are respected and supported.
Some students have attempted to bring attention to the adverse implications of Battle of the Sexes pep-rally. Megan Oakes and Emily Wright made white T-shirts encouraging students to, "Support Gender Equality."
"[Battle of the Sexes] isn't representative of people and it's completely defeating the purpose of having a school that's supposed to be unified, so I wanted to do something about it," Oakes said.
ASB representatives may have responded to those who had concern, but didn't feel prepared to do with enough time.
"One of the difficulties with that assembly was that it was the day of [the event] that we even found out about [the outrage]," Mizel said. "We could have resolved some of these issues beforehand, but they didn't come to us before, so there was no way for us to address it the day of [the pep rally]."
ASB exists to be a group of servant leaders of the student body. Let there be no mistake; they wish to create a fun environment for all students.
"We are here for the student body, and we make these kinds of events so kids can have fun … We want the students here at school to enjoy the environment and we are absolutely willing to listen to what people have to say," ASB junior president Danny Miller said.
In light of the concerns raised by the student body about the pep rally, ASB wishes to hold an open forum to hear feedback from students about Battle of the Sexes. "We want to be receptive and understanding and listen to the complaints of others," ASB member Max Burns said. "We want people to be heard and we want to create the most unifying environment possible."
Moving forward, the ASB and the student body at CAHS have to ask themselves a hard question: is male versus female competition a healthy dynamic in any dose?
The effects of a Battle of the Sexes are far too potentially dangerous to be worth a an hour of competitive "school spirit" between the sexes. There are other themes that ASB could implement, such as competitions pitting freshmen and seniors against sophomores and juniors. To respond to the controversy, ASB has proposed "things like changing the name to Battle of the Caimans instead of Battle of the Sexes, and also things like maybe having school colors instead of blue and pink," according to Mizel. We, as the student body, must work together with ASB to adjust the Battle of the Sexes to better represent the student body as a whole.
ASB will be hosting an open forum to discuss Battle of the Sexes next Thursday, 3/26/15 in Caiman Hall at 12:30. Leave a comment with your ideas for an alternative spirit week theme, or if you believe Battle of the Sexes rally should continue as a tradition. 
View Comments (54)