The Girls JV Soccer team ends a difficult season strong
On February 19, a chilly Friday afternoon, the Girls JV Soccer team wrapped up a tough season with an even tougher loss against the Valley Center High School Jaguars. The team has struggled all season to keep the ball and score goals; but despite the challenge, the girls kept up their spirits, continuing to play their hardest and have fun doing it.
The team started off their final game strong, commanding the ball and keeping the play near their opponent's goal. As the first half began to wind down, sophomore Sophia Shhadeh made her move and scored her team's first goal. The Caiman sideline erupted in cheering and thunderous applause, to the bewildered looks of their opponents. The reason for all the excitement was simple: it was their first goal of the season.
The players were ecstatic: "I actually skipped," sophomore Adaly Tapia recalled, "and I almost hugged Sophia." The girls held off the Jaguars for the rest of the half and went into halftime with high spirits.
As the clock ticked down on the final half, however, their opponents took the lead. Fighting until the end, the Caimans advanced the ball and nearly scored several times, but were unable to make another shot. Their season ended with a long whistle blow and a collective sigh at the close 2-1 result.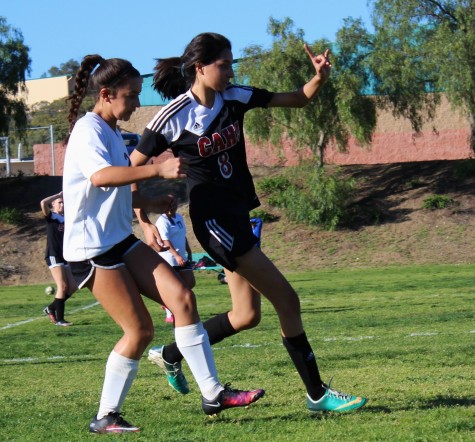 But despite their record, the team remained positive throughout the game and never gave up. "We have fun," Tapia remarked on the team's strengths. "We try our best and we're supportive." Several players expressed disappointment over the end of the season. "I'm really sad because I really connected with everyone," sophomore Kylie Hecker said.
As the sun began to set and a brisk wind picked up, the girls grabbed their bags and said their goodbyes, tired but still happy to have played. "I feel sad because I would like to improve as a player and as a team," Tapia said as she prepared to leave, "but we'll play again next year."