Through the Looking Glass: a Recap of the CAHS 2016 Homecoming Game
Although the end of the first quarter approached with a score of 0-0, Caiman fans packed in the Del Norte High School stands for Classical Academy High School's 2016 Homecoming Football Game did not give up hope. Senior Cassidy Voss predicted, "Maranatha is going to lose because Caimans are awesome and we really want this game."
Her prediction turned out to be accurate. The CAHS Football Team triumphed over the Maranatha Eagles with a score of 31-20 on Friday, October 28.
According to Chase Martinez, there were many exciting highlights of the night. "I think the best play of the [game] was Caleb Moen's 35-40 yard pass to receiver Thomas Gehman to get 2 yards away from a touchdown. The most exciting event … was the senior night … walking down to the 50 yard line, meeting my parents and them telling me how proud they were of me," Martinez recalled.
Junior Jake Gilbert did not fail to excite his audience by scoring the first touchdown of the night: an impressive 80-yard run, followed by a field goal by junior JK Haman. As halftime approached, the audience anticipated the outcome of the game as the Varsity cheer team marched up and down the track, chanting, "Let's go, Caimans, let's go!"
The Varsity football team practiced intensively in preparation for the game. Wide receiver Jari Wiggins recalled the most challenging part of the night as "staying focused and concentrating. With all the cheering and lights, sometimes it was hard. I felt a huge relief when we won."
"It was a major game that honestly could've gone both ways," the senior said. "It was a moment to celebrate and appreciate my teammates and the fans who supported us along the way."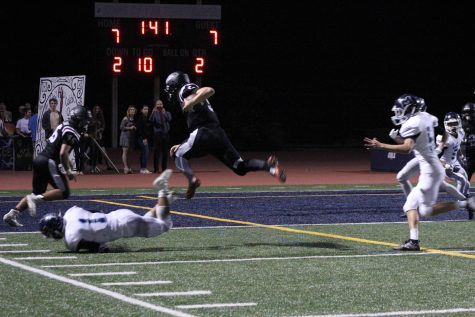 EDITORS NOTE: The last photo was mistakenly captioned junior Kanin Endsley and changed to senior Caleb Moen on Nov. 8.