Harvey Relief: Classical Starts Fundraiser to Aid National Hurricane Relief Efforts
The first major hurricane since 2005 and the wettest tropical cyclone to strike the US, Hurricane Harvey has caused at least 50 casualties in the nation. Over 30,000 have been displaced, mostly due to the flooding in the Houston, Texas, area.
Because rescue teams and resources were stretched thin, relief efforts were in many cases stymied, especially due to flooding. Civilians and law enforcement alike helped displaced families by providing food and shelter.
There is much to do in the wake of Hurricane Harvey. Eighty percent of Texan families are left without homes or home insurance. However noble immediate rescue efforts may be, those are only temporary, and these families need financial assistance to rebuild their homes once more.
People from other states have begun mobilizing to help those affected by the disaster, including those at Classical Academy High School.
Through Sept. 8, students on all seven of Classical's campuses can support Harvey relief by bringing donations to their school offices. All funds will go to the Houston Food Bank to contribute immediate relief to victims of the hurricane.
"Our technology director …  has a friend on the ground in Houston who said, 'This is a phenomenal non-profit … that not only serves Houston but around the Houston area,'" Executive Director Mr. Cameron Curry said. "I got on Charity Navigator and just started looking … to figure out if we did partner with somebody, how much of the money does actually go to the survivors. So that was huge to see … 96.4 percent of every dollar goes into food and relief efforts."  
Curry's goal is $15,000. As of Sept. 5, the fundraiser has reached just shy of $7,500. "With our population, we could easily help 15,000 people … If everybody gave $3.50, we could easily eclipse $15,000," he said.
Those seeking to make larger donations can visit Classical's Give Page and select "Texas Relief Effort" from the dropdown.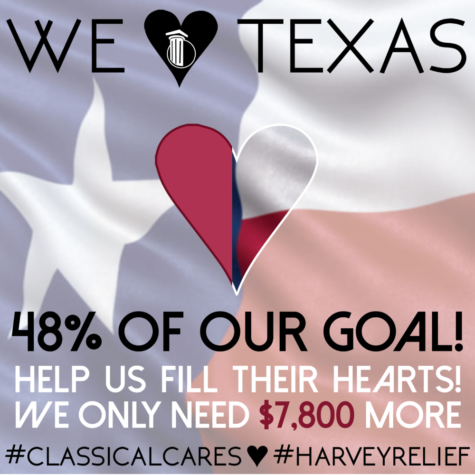 Curry hopes these fundraising efforts will raise awareness of students' potential to make a national impact and become active members of their communities on a national level.
"We need to think of our greater community; we need to think beyond just Escondido… What are we doing on a consistent basis to think beyond ourselves? There's a tragedy in another state, and what's my personal responsibility to get involved to make a difference?"
Curry hopes to make more than a temporary impact; he is already brainstorming possible options for "Part Two" of Classical's role in long-term Harvey relief.
"I would love to have each of our seven campuses adopt a Texas or Louisiana school," he said. "We could actually connect with them, maybe through social media, or maybe just email … [and ask them] what's a large need within their community. … And how do we fundraise or help provide that, so we can keep that connection going?"
But for now, Curry hopes to meet the fundraising goal.
"There are so many immediate needs right now. Let's go a couple months, let them … get back on their feet, and then have other opportunities to reach out and connect."