Home at 5:57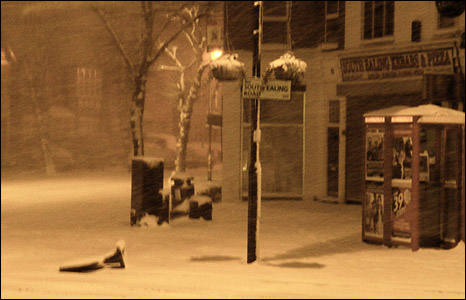 Hang on for a minute...we're trying to find some more stories you might like.
The scented candle's aroma filled the room. Ellis Lark set down a book and grabbed the brown coat that had slept the night on the coat hanger. It was two sizes too large, but a great bargain nonetheless. His feet ached from the shoes that pinched, and the cold watch on his arm was like the icy weather that anticipated him outside.
He kissed his sickly daughter on the head as she slept fitfully on the couch. He closed the door behind him as he left the drafty house, his joyful spirit lifted high.
He walked towards the old shop. The snow stuck to his coat as he rushed towards the door.
"Hello, sir," a man behind the counter said as Ellis  entered the shop.
He nodded a greeting to the man while he cleared the snow off his frosted face.
Looking at the collections, Ellis passed the valuable clocks and ancient coins. The man enlightened him on the treasures while cleaning an old vase.
Ellis  merely smiled and nodded. His mind's curiosity turned to a box, a small painted ballerina carved out of wood. The ballerina twirled like a broken record to the crackling music.
"It's broken, as you can clearly see."
"I'll take it." Ellis  smiled, picking up the box from the shelf and placing it on the counter.
The man looked at him as if Ellis  was crazy and nodded.
Ellis  asked, "What would you like this time?"
The man pondered, looking over the articles Ellis  had brought."Does your watch work?"
"To the second." Ellis  nodded with pride.
"Trade." The man, who spent his days behind the counter, wrapped the box in a newspaper, just like the day before, and Ellis  slipped off the golden watch. Ellis  picked up his package, tilted his hat, and said his goodbyes.
"Does she like the candle?"
"She loves it." He turned to the door, thanking the man again as he left the shop.
5:57 in the evening. He walked through the door and laid his coat on the chair.
The sickly girl in the corner laid down the book when he entered. "Father!"
He gave her the package and kissed her forehead. Music filled their ears, and tears welled up in his eyes. That would be the last time she saw the ballerina try to dance to the crackling music that struggled to play.