Exuberant and Eloquent: Senior Megan Levi discusses Speech and her future
"I love music…and the arts…I love improvisational comedy, poetry, [and] God," says senior Megan Levi, exuding energy and enthusiasm.
Megan Levi, also known as Megatron, Green Megs and Ham or simply Meg, is a senior at CAHS with a keen sense of purpose, as shown in her participation on the CAHS Speech team. She looks forward to combining her experience on the speech team with her dream of pursuing a career as a youth pastor.
Levi first came to Classical during her junior year. Although the initial experience was "horrifying," the speech team helped her open up, get more involved and attain more confidence.
Levi beams when she shares some of her fondest memories; last year, she was assigned a speech duo with then sophomore Carole Hall. Levi, who has been acting since she was 2, took on the role of teaching Hall. For acting practice, Levi gave Hall a full glass of water and told her to spill all the water without bending her hand or arm. As a result, Hall had "to use her body and flail all around the place." Levi also mentions fellow Speech team member Evan Santos, saying that he is "like a brother and it's just absolutely hilarious to…make fun of each other."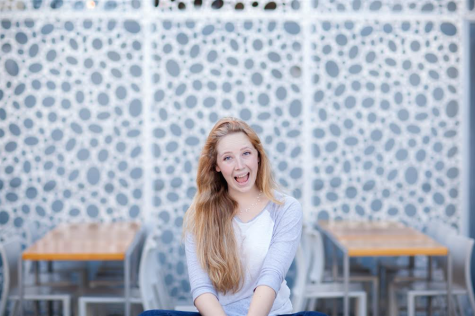 Being on speech has taught her many valuable life lessons. In particular, she has learned to "fake it till you make it" as she has built up her confidence by masking her fears. Now, she finds it "hilarious" that one of the most prevalent fears in America is public speaking because she has been speaking "in front of people consistently on Saturday mornings," who are "literally writing down [her] mistakes." Levi says that her experience on the speech team will definitely help her in the future as a youth pastor because it requires "speaking in front of people and communicating the idea of Christ and love."
At present, Levi is not only juggling college applications, but also working on two speeches while recuperating from surgery on her lower back due to a cyst. One of her speeches is a humorous OPP (which stands for Original Prose and Poetry) called When I Get Big, which describes her "deep-seated desire to become a little ol' lady." She is also performing a duo with sophomore Shelby Sanborn called the Grimm Brothers' Spectaculathon. She has garnered many awards from last year, taking first place at a regional tournament and semifinalist at an international tournament held at Stanford University. Levi hopes to up her game this year.
And…a parting piece of advice from the exuberant and eloquent Megan Levi? Keep moving forward. Levi says that what with recovering from her operation, applying for college and keeping up with everything else in her life, it's important for her to keep going. "We fall, we rise, we make mistakes, we live, we learn. We're human, not perfect…sometimes there is sadness in our journey but there is also lots of beauty. We must keep putting one foot in front of the other even when we hurt, for we will never know what is waiting just around the riverbend."
Leave a Comment