The Scorch Trials: A Blast, Though Singed with Predictability
"We never escaped. It's WCKD. It's all just been part of their plan."
"The Maze Runner: Scorch Trials" follows the group of teenagers who have just emerged from the trauma of the Maze only to fall into the hands of WCKD, the scientists who orchestrated the entire experiment. Their escape from the facility in which they were imprisoned sets off a series of adventures (and deaths) as they head off into "The Scorch."
I was pleasantly surprised by the fact that this movie handles special effects particularly well. It doesn't go overboard with the CGI effects or become too creative as to become distracting. In particular, I enjoyed the scenes full of hauntingly beautiful and desolate desert landscapes. The Cranks (zombies) are horrifying without gratuitous imagery, and the fight scenes are thrilling and action-packed.
The main problem I find with this movie would be the lack of originality. The movie starts out in a promising though nebulous manner. But the rest of the plot is simply run, run, run from every single danger that the characters face, without explanation as to why they don't want to work with WCKD to find a cure for humanity. Even natural disasters chase them. The constant prolonged encounters with the Cranks become more and more repetitive as the movie meanders on in an aimless fashion. The sense of mystery and suspense that the movie seems to be aiming for diminishes considerably and becomes quite irritating. This entirely predictable encounter-escape pattern becomes ridiculous in the end, until a predictable plot twist happens and Thomas predictably thinks of actually fighting WCKD. And speaking of the ending, it leaves the audience hanging, a crude Hollywood tactic to wring more money out of the crowd with such major blockbusters.
My only other complaint would be the underdevelopment of the characters. Minho, Newt, Winston, Frypan, Aris, and the rest of the other guys are always seen as a group. They are never fully developed to show individuality or diversity, the tension and confusion amongst them reduced to a few petty repartees between Thomas and Newt. Despite the actors' amazing talent and chemistry, their dialogues are too trite. Stilted and cliched lines delivered by the actors makes the movie drag at times, and incomplete conversations done to generate an aura of mystery were simply infuriating.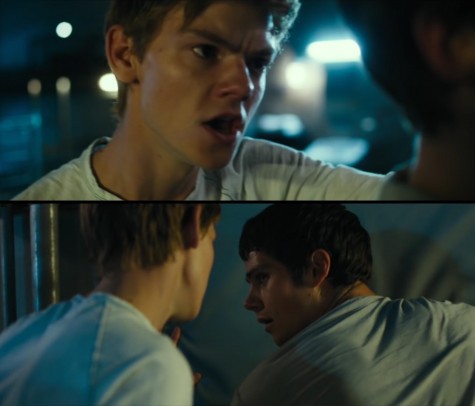 In conclusion, the casting is spot on, the visuals stunning and the score brilliant, but the screenplay mediocre. There were some riveting moments in the movie that definitely made it fun to watch the first time, and the artistic concept is certainly there; nevertheless, the Scorch Trials lacks genuine substance, and it is definitely not as a-maze-ing as the first.
Leave a Comment