Academic assembly honors diligent students
ESCONDIDO — On April 17, the student body slowly progressed en masse toward Caiman Hall. The occasion: To celebrate the academic achievements of fellow pupils. Following second period, many students ran into an initial surprise: the inexplicable presence of bubble wrap paving the floor.
This proved to be a congratulatory device prepared by ASB. The bubble wrap, from afar, sounded similar to the loud crackle of fireworks, an auditory display of recognition. Once seated in Caiman Hall, Principal Dana Moen proceeded to detail the purpose of the assembly.
Classical Academy had received a prestigious ranking from Newsweek Magazine. Having placed second in San Diego County and 183rd in the nation, Moen saw the event as a way of drawing attention to the workers behind the awards. The magazine, he said, did not glance at our sports record or even our graduate percentage. The awards were granted based on test scores.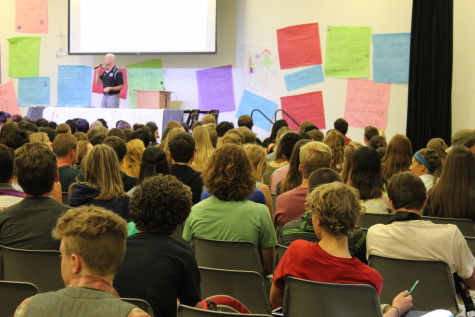 State testing, which is coming up quickly on May 11, was also briefly addressed at the assembly. In this discussion Moen stressed the importance of showing up for the tests, as the assessments are what get the school awards like the recognition from Newsweek.
The assembly reserved a time for teachers to highlight their most diligent students so to encourage greater a application toward academics. Among the teachers were instructors from the Cyber Café, giving an equal representation of the students enrolled in the Online program. "It was cool because we got to see our peers receive awards," sophomore Ashton Sargent said.
The assembly finished off with a quick game of Are You Smarter Than a 5th Grader. Pitting teams of different classes against each other, the apparent champions were the junior class representatives, Tessa Ohre and Evan Santos.