New Teachers at CAHS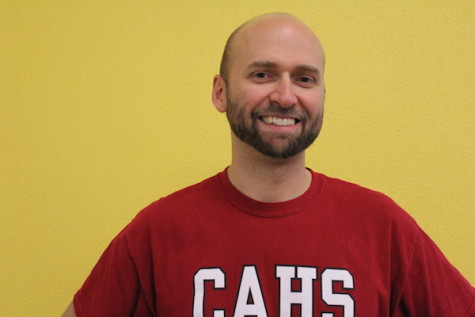 This year, five new teachers made their way onto the on-campus Studio program at CAHS. For some of them, Classical Academy is a whole new experience. To others, it isn't anything they haven't done before.
"I actually served as a sub here a couple years ago, and I just loved the environment so much that when I got offered a job as a full time teacher, I jumped on it," Mr. Peet, a new teacher instructing Algebra I.
CAHS is a familiar environment for Mr. Sheffield, the new English 10 Honors teacher, who spent time as a long-term sub at Classical. This year, he stepped up to receive a full-time job. "When I was a long-term sub here, there was something I really enjoyed … I thought it was awesome to be around kids to push me to be better."
Another experienced teacher that has joined the staff this year is Mr. Holz, who primarily teaches English 10. This year serves as his tenth year teaching, following his experience as a sports director and making Classical Academy High the third school he's taught at.
This also includes Mr. Brack,  the new Algebra 2 teacher, who's been teaching for 41 years in many different schools. "Well, I started teaching in 1974, I taught in different parts of the states, in Africa for some time, and I was up in Torrance for 12 years," Brack said.
On the other hand, some of these teachers are relatively new. Ms. Leyva, who teaches Chemistry and Marine Biology, for example, has only been an educator for three years.
Mr. Peet, is currently experiencing his first year as a full-time teacher. In an interview, Peet said, "I worked as a substitute at several schools before, but this is the first time I've been an actual teacher."
The new staff has a bright outlook on their future at CAHS, and are already finding themselves assimilating into the crowd. According to Mr. Brack, the student body is doing their best to make the transition easier. "Students are very polite and considerate here, hard working … I've been very impressed with that," Brack said.
These new teachers have made a wonderful addition to the Classical Academy staff, and will impact the lives of their students for years to come.
Leave a Comment