CAHS Girls Varsity Soccer kicks off their first game of the season
It's Tuesday, December 1, the first day of school after Thanksgiving break, and the first game of the season for the CAHS Girls Varsity Soccer team. The girls warm up in the cool air of the soccer field as they prepare for the game. The coach, Hector Ochoa, calls the girls into a pre-game circle in the middle of the field.
After returning to the sidelines, the girls group into a tight huddle, arms wrapped around each other. Their words are inaudible except for the collective "Amen" at the end that comes from the circle. "Caimans on three!" one girl calls. "One, two, three….Caimans!" the team replies.
The referee blows the whistle and the game begins. This is not just any game for the girls.  Besides the fact that this is the first game and the girls are still building up their skills as a team, their opponents at Christian High are two divisions above them.  "[W]e're division four and the team we played was division two," said sophomore Cambria Osborn, a second-year veteran of the team.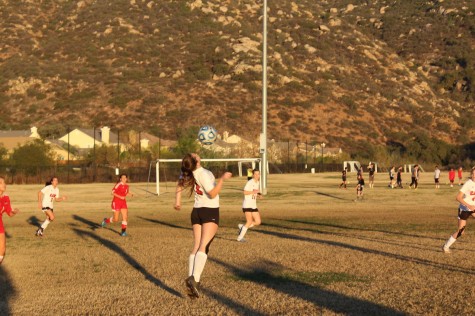 The girls are still adapting to the year's new team. "We've only had maybe one or two practices where the whole team is there, so we don't really know how we work together yet," Osborn said.  "[W]e don't know who's left-footed and who's right-footed," sophomore Claudia Scott said, "or who has the speed to make runs and who doesn't."  As for their first game together, they "still played as a team and we gave our 100 percent the whole time, which is really important," Scott continued.
The team is also adjusting to the addition of five new players. "[W]e lost two seniors last year, so we got new freshmen this year," said Jenna Merrill, a sophomore, who's also on her second year as a varsity player. "I think we just need to keep our confidence in each other to make the team become better."
The game proved to be difficult, but the girls didn't cower before Christian High. "We held our own really well," Merrill said. The final score of the game was 4-1 loss with Abby Meziere making the goal. "It was rough," Merrill continued. "We tried our best. We put it all out there."
By the time the game ends, the sun has set, darkness has covered the field and the air has grown much colder.  Although it might be the end of a day and the end of a game, it's only the beginning for the girls varsity soccer team as they kickoff their season with high hopes for the future.
Leave a Comment