Shrek Tech Week
Hang on for a minute...we're trying to find some more stories you might like.
 On Sunday, May 22, 2016, cast members of the show "Shrek" went into full production mode as their tech week began. Tech week is when practices are rehearsed as t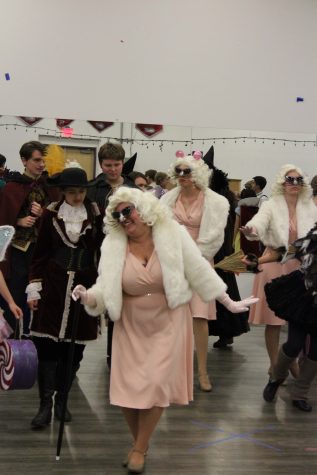 hough the actual show was being performed; students ran through the entire show, including costume changes and putting on makeup. Each of these days consisted of several hours of work, even up to 10 hours.
Due to the extreme length and intensity of Tech Week, many students find it very stressful. Tech week continued from that Sunday until Thursday evening, where the show was first performed as a preview. Junior Janae Vigil, who played a blind mouse in the play, describes tech week as the time when "everyone starts getting sick, losing their voices and breaking bones," and when cast members "struggled…[through] many quick costume changes and costume malfunctions." Despite all the stress, Vigil sympathizes with the crew team, saying, "I always give huge props to the stage crew, because they have a week to learn what we have been practicing for months."
This year, instead of the show being held at the Escondido Center of the Arts, the production was moved to the Maxine Theatre in Valley Center. Sophomore Ali Rohrbaugh, who played the Fairy Godmother, mentioned that her struggles consisted of how "the theatre was so far away" and how some rehearsals "ended at 10:00 [p.m.] or 10:30 [p.m.]." "Tech week is always an experience that is an emotional rollercoaster," she added.
After the preview show, there were several other showings every day from Friday, May 27, 2016 through Sunday, May 29, 2016, with two shows per day, each with a different cast. Although the show may be over, Vigil expresses how the show has changed her life by stating, "This was the most memorable show I ever worked on, because it uncovered what I now want to do when I grow up. I would love to be a choreographer, even if it is just on the side. I hope that I never have to leave theatre for any reason."