A Good Habit
Hang on for a minute...we're trying to find some more stories you might like.
Coming off of the San Marcos Boulevard exit, the first thing you notice is the ambrosial smells of all the restaurants nearby such as Phil's BBQ, In-N-Out, Chick-Fil-A and Slater's 50/50. Because it is tucked away, not many people notice The Habit immediately.
With 147 locations  across the United States, many people visit this all-American burger grill each day. The Habit was founded in 1969 in Santa Barbara, CA as a family-founded business. In 2007, it was purchased by KarpReilly, LLC, and the company started growing rapidly, both economically and socially. With more money, they have increased the size of their facilities, raised the number of customers that come in daily and added more variety to their menu.
Though it's called "The Habit Burger Grill," they sell much more than just burgers. They offer sandwiches, salads, shakes, French fries, onion rings and fried tempura green beans. My personal favorite is the Teriyaki Charburger which has meat, cheese, grilled onions, lettuce, mayonnaise, and a pineapple ring drizzled with their mouth-watering teriyaki sauce. The wheat bun is grilled to perfection, with just the right amount of char to top such a delicious creation. With that being said, there's no menu item I have tried there that I do not like.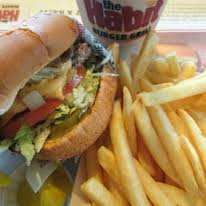 .
The customer service is one of the best I have seen. The tables are always clean, the soda fountains are never out of order and your food is served within minutes of ordering. The employees are disciplined and hard-working, while also keeping cheerful attitudes in the workplace. Their enthusiasm is not overbearing, but there's just enough to know that they enjoy their jobs.
The atmosphere of this restaurant is lively and family-friendly. Every location is different, but the San Marcos location has pictures of the very first Habit and surfers, which makes you feel as if you were right on the beach. The bright colors and music also play a role in the mood of the restaurant. As mentioned earlier, it is a very clean restaurant which makes it easier to get comfortable while eating your meal.
However, there are a few minor details I would change. One thing being that they don't always get the order right. Occasionally, they'll charge you for something that you didn't buy or give you one too many things. Additionally, the restaurant itself is fairly small, which can lead to too much noise in one area. I sometimes find myself raising my voice to my dad across the table, so if you're one of those people who value silence, The Habit may not be the best for you.
Overall, I'd give this restaurant 8.7 stars out of 10. The food is flavorful with a wide variety of choices, and the customer service was above my expectations, but a few mistakes with the orders and rather noisy environment keep it from a perfect 10.