Redefining the Caiman Way: Female Football Players Defy Stereotypes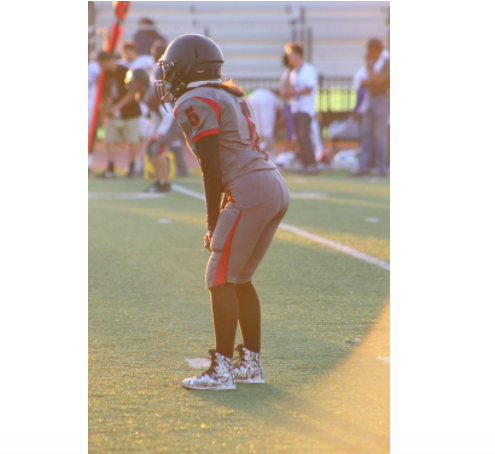 Beneath sweaty layers of football jerseys and padding, it's virtually impossible to tell the gender of the person wearing that helmet. If you spotted someone sprinting down the field to score the winning touchdown, you wouldn't pause between cheers to question if they were a boy or a girl.
So why is it such a big deal there are two girls on the football team this year? Junior Katriana George (85) and senior Tara Gulati-Brown (5) of the JV team weigh in.
Although neither of the girls have played football at Classical in the past, they both have history with the sport.
"[My brother] played football last year, and … over the summer he was like, 'Dude, come play with me,' and I tried it, and I loved it," Gulati-Brown said. "It's a good program, especially at our school."
"I've always wanted to do football," junior Katriana George said. After taking Coach Sherlock's weightlifting class during both her freshman and sophomore year, "I talked to him about it, and he agreed that I should try it out."
When asked if joining the football team affected people's opinions on her due her cheerleading history, George was quick to agree. "At first, I definitely got that, because [the football players] didn't think I could do it. But once they got to know me … and saw how hard I was working during practice, they didn't second-guess me.
Being a girl on the team doesn't only present physical challenges, but occasionally mental ones as well. "The lifting weights part is fun, but the guys kinda make me feel like less of a football player," George said. "Our [maximums] are like their warm-up sets, it could be hard sometimes when you're trying your hardest and you can't compete with anyone on the team.
However, both girls have found camaraderie in their fellow players. "On Varsity, [senior] Jake Gilbert kind of took me under his wing … and showed me the ropes and helped me out with everything, like fitting in and getting to know everybody," Gulati-Brown said.
She's also received support from her brother and fellow JV team member, sophomore Sirroc Gulati-Brown, who encouraged her to pursue the sport in the first place. "He's my number one fan, and I'm his number one fan," Gulati-Brown said.
George, on the other hand, has largely received mentorship from Coach Lopez. "He was always there for me — not just when I had a hard time fitting in, but I was lost, because it was like learning a whole new language in a place that you've never been. He just made it easier for me since he was always open, and he told stories about him[self] to help me understand and feel better," George said.