Hamilton: What is it really about?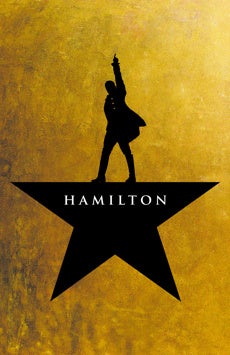 During quarantine, people have been all over different streaming services such as Netflix, Disney+, Amazon Prime and so many more. But one breathtaking film that was recently released on Disney+, is none other than the Tony award winning Broadway musical, Hamilton. 
July 3, 2020 was a very exciting day for many theater lovers. The New York Post describes Hamilton as "thrilling" or "brilliant". The creator, Lin Manuel Miranda's career took flight with Hamilton, in which he was the scriptwriter, songwriter and originator of the leading role, so he had quite a bit of work on his hands. According to interviews from Youtube, it took Miranda seven years just to write the script and songs! All of that time really paid off for how great the music was. Miranda deserves quite a bit of credit for this astonishing achievement. But, let's get down to the more detailed aspects of this show.
The musical features most of the story line from founding father Alexander Hamilton's late teenage years to his death. In the opening song, "Alexander Hamilton", it explained most of the aspects of his early childhood such as him becoming an orphan, immigrating from the Caribbean islands to the U.S. and beginning his writing career at a young age of 14. The opening number also includes how he met and how he was associated with most of the characters such as one key character to the show, Aaron Burr. 
Aaron Burr is a very important aspect to the overall show and performance. Burr is like a narrator to the show and begins almost every scene the same way which is like his touch to the performance. Aaron Burr is played by musician and actor, Leslie Odom Jr. Aaron Burr was one of the first people Hamilton met when he came to the United States. Aaron Burr was the founder of the most exquisite, expensive and socially elite colleges of that time called Princeton College. Alexander, wanting to find a way to get a free scholarship to Princeton, attempted becoming friends and bargaining with Aaron Burr in the hit songs, "Aaron Burr Sir" and "My Shot". 
The fifth song, "The Schuyler Sisters", featured the most known Schuyler sisters, Angelica, Eliza and Peggy. These three sisters had outgoing, adventure-seeking and rebellious — toward their father, Phillip Schuyler, of course— personalities; except for Peggy. But one big detail they did not add, is the Schuyler sisters had five other siblings; two other sisters and three brothers. But one very specific thing in the song, "Satisfied", Angelica stated: "I'm a girl in a world in which my only job is to marry rich, my father has no sons so I'm the one who has to social climb for one" but historically, she had three brothers. The fact that Miranda didn't mention the other siblings threw some of the more indepth fans off. It was hard for a Hamilton fan to personally follow along at some points because of how fast and how scenes can change from 1776 to 1785 within minutes such as the "Satisfied" scene and the "Schuyler Sisters" scene.  
One breathtaking character from the show was King George III played by Jonathan Groff. Groff displayed the personality, emotions and power King George had back in the 1700's. King George III was the king of England from 1760-1801 and he died in 1820. In the musical, the U.S. were trying to break free from King George's rule so they could be independant and would be able to stop paying the tax for tea. King George sang about it in his iconic song "You'll Be Back". The song seemed like it was sung in an evil yet comedic tone which portrayed the emotions of King George being angry and Jonathan Groff's comedic side.  
A character who made an astonishing appearance was George Washington, played by Christopher Jackson. In the musical, Jackson displayed a fatherlike attitude toward Hamilton, even though Hamilton was not very pleased about it. George Washington was the army general while being president which gave Jackson a challenging character to go from "General Washington" to "Mr. President", but with his experience in acting and broadway theater, I think he displayed the role very well. 
Another vital set of characters were none other than "America's favorite fighting French man", Marquis de Lafayette, and the 3rd president of the U.S., Thomas Jefferson, who were both played by Daveed Diggs. Lafayette was a french man who came to the United States to help fight in the Revolutionary War. He later became friends with Alexander Hamilton, Aaron Burr and other characters like Hercules Mulligan and John Laurens. The musical did not feature Lafayette going back to France but quickly switched to have Diggs play Thomas Jefferson. Thomas Jefferson was displayed as a hot headed, sassy and comedic character which I actually enjoyed. 
In the song, "Stay Alive Reprise", Phillipa Soo, who plays Eliza Schuyler Hamilton unleashes an excruciating and stupendous gasp when her son, Philip Hamilton dies in her arms. This moment in the musical is known throughout all of broadway and theater history. Any mother would of course scream and cry if their child passed away, but this gasp was incredible. I would say it took some effort to make that loud and expressional of a gasp. 
Hamilton is easily the best musical put out on the stage because of the storyline and how it ties all together with the songs. Some parts were a bit cheesy like during the beginning of "A Winter's Ball" and how they are singing about being "reliable with the ladies", but overall it was a great performance with the perfect actors. One confusing thing I noticed the first time I watched Hamilton was that during the second half, some of the actors took on the role of another character such as Lafayette switching to Thomas Jefferson. The actors were all very experienced and shaped the musical to be the way it came out to be. Hamilton is a great musical and I highly suggest watching it.