More Than A Coach: Varsity Baseball Players Remember Coach Sisler
"He really cared about us as baseball players and as people too. … Obviously, his job was to have success in the baseball program, but he also … was one of those guys who never specifically said anything to you that made you feel loved, but you just knew he did," alumnus Timothy Boshaw said. To many of his players, Coach Ron Sisler was more than just a coach. He was a father, brother, friend and one of our most beloved staff members. 
On Aug. 27, 2020, Coach Ron Sisler passed away in a tragic accident. Since his passing, current and former players have had the opportunity to reflect on who Coach Sisler was and what he taught them.
Coach Sisler started coaching Varsity Baseball at CAHS in 2017 and made several changes to the way the team functioned. "When he first started, we had the usual difference in team culture that he was used to and so he started out working on building our culture to be a little more competitive and perfectionist, doing everything the right way. And nobody resisted, but it took a little bit of a change to get it to get going like he wanted," alumnus Ian Peters said. "He totally changed the way we conditioned after practice, and I hated it, because it sucked. It was really hard. I remember him talking to us every time and he was like, 'You know, I'm not making you do this because I hate you guys, I want you guys to get better.' And sometimes he was happy about the way we performed, and sometimes he was not, but I think he helped everyone kind of see that sometimes you have to do something unpleasant to get something good out of it."
Clearly the hard work paid off, because the team rose from Division Four all the way up to Division One. "I never thought about how far Coach Sisler was going to take this, and I didn't think at all that we were going to become a Division One team. My freshman year going from D4 all the way to D1 my senior year was crazy, but it also forced us to push each other more and become better in any place we can," alumnus Tyler Clark said.
In his first year of coaching, Coach Sisler took the team to the Division Four CIF playoffs. Later, with a 29-5 record, the team was the number one seed in the Division Two playoffs in 2019.  Additionally, he led them to two wins in the Lions Baseball Tournament in 2017 and 2019. The team was also headed for the Division One playoffs in 2020 prior to the coronavirus pandemic. "I think that [success] was a large attribute to Coach Sisler, and how he taught us the game of baseball," Boshaw said.
Coach Sisler's style of coaching pushed the players to believe in themselves and to perform at the best of their abilities. "The thing about Coach that helped him work better with our team was that he was intense. He was on fire for the game and pushed us enough and got us all in the mindset that we need to become better. We all were just going to stay the same mediocre team, if it wasn't for Coach being so hard on us, and pushing us to become better than we thought," Clark said.
In addition to helping the players do better, Coach Sisler took the time to improve himself and his coaching to best suit the team. "He was motivated, he cared a lot about what he was teaching us. … He knew what he was talking about, he cared about what he was talking about, and I remember hearing that he would always read articles and books … to try and improve his coaching so he could do what was best for us, not what was best for him," alumnus Zachary Jordan said. 
"Everyone who came, their mindset was to work, and if yours wasn't to work then you were on the bench or you weren't going to play that much, so that's why everyone wanted to be on this team and work their hardest, so he pushed everyone, and that's how we became such a great team. It was because of him," senior Michael Moody said. "He got us to work. No other coach has got me to work that hard before. Now, when I go to any other coach, it's just not the same. He always pushed us to be the best we can be. He always worked with us one-on-one when we needed him, he would come to us, even if it wasn't about baseball, he would still be there for us."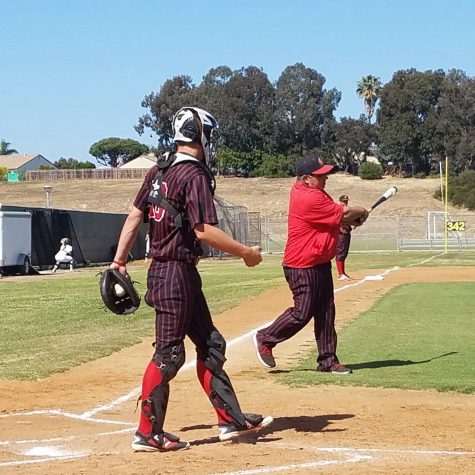 Aside from being a very successful coach, the players remember Coach Sisler as a fun person to be around. "He was a character out there. Sometimes he was super strict and serious about stuff and then there would be random Friday batting practices where he would just be in a really joking, funny mood, and it was a lot of fun. You got to see the two sides of him, the really competitive and also the more goofy and fun guy," alumnus Noah Dull said.
Beyond just having fun, Coach Sisler was someone the players could look to for advice and someone they could count on if they needed help. "You just kind of had conversations with him about life and stuff, I think he was just always there for us. I remember one of the first things he said [to us] was 'If you ever need me, if you're in a bad spot, just call me.' I never needed to use that, thankfully, but I believed that if I ever did find myself in a situation, I could call him, and he'd be right there to help out," alumnus John Paul DeLuca said. This memory of Coach Sisler resonated with several of the players on the teams.
"I totally believed that I could rely on him, and that was just the type of person he was, he was totally reliable, [I] totally trusted him with that," alumnus Vincent Marcantonio said.
There were several memories of Coach Sisler that stood out to the players, both on and off the field. "There's so many little things he did for us that made us know he cared," Boshaw said. "My favorite memory with him was probably at Round Table Pizza, when he was just goofing around, playing games with us. He was just such a fun, lighthearted guy, but at the same time knew when to be serious, when it came down to winning baseball games."
"One of my favorite [memories] was showing up to a game early, … I was just getting to know him, and I showed up, and he was blasting music, just kind of getting in the groove a little bit, so it was kind of fun to see that side of him, and then we got to talking a bit about the music and stuff, it was pretty cool," DeLuca said.
"[Some memories I have are] all of the hours after practice. Not even the hour and a half to two we'd spend doing practice, but after that, I just remember we would hit literally until dark. I remember I was so tired because I had spent two hours practicing and we might have already done some hitting before that and then he would spend an extra hour with me after that. He had Clay, or he had to go home, but he would still stay there and take that extra time," Jordan said.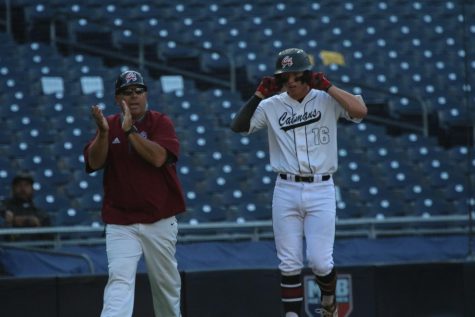 Along with helping the team prosper competitively, Coach Sisler fostered lasting relationships between the players. "Coach taught us a lot about family and brotherhood, [and that] at the end of the day, this is a game, and these guys out here on the field are going to be your family forever, and we still hang out and [I] still talk to a lot of the guys, and I'll never forget any of them. They're a huge part of my life. Just those bonds that he helped form," Marcantonio said.
"He just brought out the best in everyone, so it was easy to have fun. Just being there was the fun part. I had all of the guys, but being in that whole environment, he was the glue that got us all together," Jordan said.
While being the coach, Coach Sisler was able to offer his players advice and life skills in the game that would help them in their lives not only as baseball players, but as adults too. "He gave so much advice, … I'd say to just keep working hard and believing in yourself. In baseball there's a lot of setbacks, and if you just keep believing in yourself you'll find a good time to come through when it's important," alumnus Corban Arnold said.
His advice didn't stop at his spoken words, and the players looked to how he acted for inspiration. "A lot of [his advice] was by example. He didn't necessarily have to talk about it, he would run us through everything we needed to do. He'd always be asking about your grades, and then if they ever started to slip, he'd get on you about it, but always in a good way. He really helped foster that sense of discipline where you didn't need to rely on him to tell you to do things. He'd remind you until you got it and then you got it," Peters said.
"Coach is a person that I would love to become someday. He was humble, and thoughtful to others. He pushed us as players to become better. The biggest thing he taught me that helped me become better as a person was to just be yourself, perfect your strengths, and build up your weaknesses. We are all different people, and we can only control ourselves," Clark said.
Now that future varsity teams will not be able to experience Coach Sisler's training, the players each have a message they would like to tell to the future players. "I just want them to know how hard he pushed his players and I'd say to them, just keep working hard throughout the whole year. You only have four years of high school, so make the best of it, because it flies by really fast," Arnold said.
"I want them to know that he was a great guy, a fun guy, but he was also super competitive, and he wanted the players to win. It wasn't about him, it was about the players, and having them be successful, so I want them to know that if he was still there, he would push them and he would love them, and he would encourage them so that they could be better," Dull said.
"I just want them to know that he loved them. That was his family. He would do anything for you, like the example when you could call him whenever, whatever time. He would do anything for them, and his love of the game, he was one of the brightest baseball minds that I've ever been around. He knew things that I didn't even consider about the game," Marcantonio said.
"He was a guy that would push you to your highest limit. He was a great friend and a great coach. He would talk to you when you're at school, because he was the study hall teacher, so when you walked by, you could talk to him and have a full conversation with him and he wouldn't be tired of it, and he would do that every day. … At games was when you were serious, and that's when all of us were serious with him. … He was just a good guy," Moody said.
"[I want them to know] Just what a genuine person he was. He really did care about everybody on his team. He didn't care about your talent, he cared about who you were as a person. You could have had the best talent in the world, [be the] next great baseball player, but if you weren't a really good person, you weren't going to play for him. He really did care about who these people were as individuals rather than baseball players," Jordan said.
"[I want future players to know] the way he could keep things in perspective. … Like, it's a game. I think a lot of high school players take it really seriously, because it's their first taste of real competitive baseball, and it's important to be competitive, but it's also important to remember that it is just a game, and you can laugh about it and you can have fun and you can joke around as long as you're putting the work in, and I think Coach taught that really well. He was always cracking jokes and messing around with guys, and he made the game fun to play, and I think if they can see things the same way, they'll have a lot more fun," Peters said.
"He was a really, really good man. A lot of future players, they're going to see videos of Coach Sisler, … and they're going to think he's either very strict or he was very goofy, you'd see one of the two, but the man was such a good guy. He cared about everyone, and he took his job very seriously and made a good baseball team out of it, but I just want people to know what an impact he had on everyone here, but just how genuine of a person he was. Not just as a coach, he was a genuinely good man," Boshaw said.
"I want future players to know how great of a coach he was. I want them to know how much Coach did for us on the team, and for me personally. It's very unfortunate that they aren't able to receive his teaching anymore, so now it's up to us, the players that had the privilege to play for him, to teach the future generations what he taught us," Clark said.