Ordinary to Extraordinary: Classical Academy High School's first annual art festival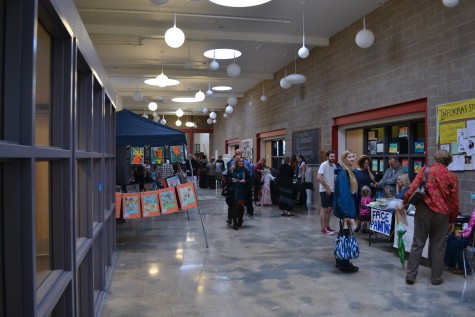 ESCONDIDO, CA — Despite the heavy rainfall on Saturday evening, Classical Academy High School buzzed with activity during its first annual art festival.
Students from CAHS and its sister schools —The Classical Academy (TCA), Coastal Academy, Classical Academy Vista, and the Classical Academy Middle School (CAMS) — put on multiple performances, that included singing from TCA's intermediate and advanced choir, dance routines from the Dance Troupe, the Junior Dance Troupe, and the CAHS & Effect Dance Team, as well as, a sneak peak from the upcoming show "Oklahoma!"
Artwork from CAHS, TCA and CAMS lined the hallways, as well as family oriented booths for painting, face painting, sand art and others. Baltimore Snowball and the Two For The Road food truck joined the event and provided guests with different snacking options.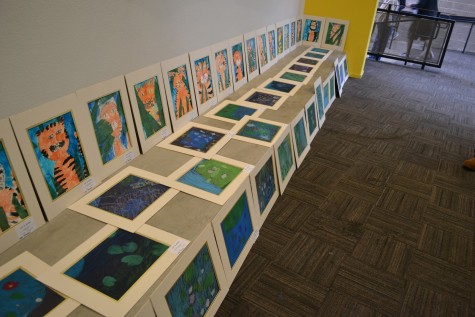 At 4:30 p.m., Mr. Michael McGaugh's classroom filled with dancers as they went through their routines one last time before their performances. "I think [the show is] going to go really [well] tonight, I'm really excited to see how many people will be here and how it will all come together," said junior Hannah Preston before the show.
Multiple volunteers and students worked for numerous weeks in preparation for the event. "We started [planning] this a couple months ago but we really started getting [serious] in the last month. I'd say four to five weeks we were really pushing hard," McGaugh said.
"It was a lot of work but I mostly pinned up things, positioned sculptures and cleaned the art class. [I] made the recyclable sculptures of course and the sculptures [took] weeks of preparation," Advanced Art student and volunteer, Hannah Brittain (11) said.
At around 6:45 p.m., festival-goers began crowding into Caiman Hall for the main performance. Mr. McGaugh began with an introduction to promote environmental awareness and thank the students, parents, and administration that volunteered their time.
The performance portrayed the impact of ocean pollution as dancers got caught in nets and trash. Throughout the dance, videos of animals affected by pollution played in the background. "I thought it was really cool. I'm in Art 1 and we spent the last three months making [the props] … [and] I came in early on Friday to set up. It was amazing to see everything that we've worked on for so long come to life [in] a pretty intense and beautiful performance [about] Earth Day and protecting the environment," freshman Nataleigh Dupler said.
When performers took the stage for the finale they brought a wave of emotion with them and caused McGaugh to get "a little teary eyed."
"I think it went beautifully. I think it was really inspiring. I was really taken aback at how beautiful it was," McGaugh said. "That was the first main run through of the entire show, so the fact that it came off as well as it did was, I'd say, a complete success. I'm really happy with it and I'm excited to see where it goes from there."
EDITORS' NOTE: Sierra and Sabina's article was also published in Vista Press! Check it out here.