Syria's Civil War
In March of 2011, Syrian civilians decided to protest against their dictator, Bashar al-Assad, with a goal to overthrow his regime and establish a more democratic society. However, Assad retaliated with his own forces, and the protests spiraled into a violent civil war that has yet to stop raging.
The conflict has given way to a new-age exodus. Reports done at syrianrefugees.eu estimate that about 9 million people have fled the country since the outbreak of civil war in 2011. The huge outflow of people has resulted in one of the largest mandatory emigrations since World War II (bbc.com).
Though many of the refugees have sought sanctuary in neighboring countries (including Lebanon, Turkey, Jordan and Iraq) others are fleeing farther away, seeking asylum in European countries (syrianrefugees.eu). This has created conflict in the European Union and the United States, as both deliberate whether they can accept more refugees and how many each country can hold.
The Syrians, however, need an answer. Most have fled from what is left of their homes to other countries in hopes that they and their families can start new lives. But several countries—such as Hungary—have already begun closing their borders, with several more countries including Denmark, Germany and Austria tightening immigration restrictions.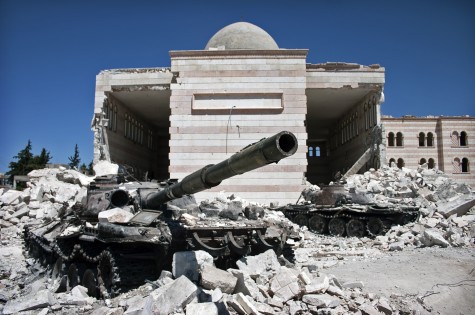 Despite the hassle to get somewhere safe, many are willing to risk everything because they have nothing left. "When … everything around you has been destroyed, when all of your family has been dispersed, when you have lost all economic means to support yourself, when safety and security—a human being's number one priority—is gone, I mean, there's nothing to live for anymore," Syrian-American activist Hamid Imam said in an interview with america.aljazeera.com. Though some are reluctant to accept refugees in the US, Imam and others like him are continuing to hold rallies in support of the refugees.   
Even in America, 6,667 miles away, people are feeling the impact of Syria's war. Mr. John Daher, an American citizen, was born in Homs, a town now almost completely ravaged by the war. In addition to three aunts and an uncle, Daher has "a lot of first cousins [in Syria]. [It's] a big family." The war has not spared them, either; one of Daher's first cousins was killed in the army at 29 years old. "And then, four months later, his father, [who] is my uncle … had a hard time with it and he ended up passing away. … So … if you look at it, [he was affected] … directly because of what happened to his son," Daher said. When asked how it was impacting his family in America, he said, "It's affecting them because … all Christianity itself is getting … destroyed in Syria."       
As a testimony to that, two years ago, two Middle Eastern Christian hierarchs were kidnapped by rebels: Syriac Orthodox Metropolitan Gregorios Yohanna and Greek Orthodox Metropolitan Boulos Yazigi. Neither have been heard from since, and the Orthodox Christian faithful are unsure of both their whereabouts and their condition. However, Patriarch John X (Yazigi), brother to the missing Metropolitan Boulous, remains hopeful that peace will once again be restored to Syria.
"
"We are Syrians, the children of this nation."
— Patriarch John X (Yazigi)
In an interview with the Antiochian Patriarchate on the state of Syria, he said through a translator, "We are Syrians, the children of this nation. We were born here, as were our fathers and grandfathers. … [W]e have lived together and have built a common history. There is no doubt that our future is one" (antiochian.org).
Editor's note: On Oct. 15 at 2:30 p.m., "desecrated" was changed to "ravaged" to strengthen clarity.