Battle of the Caimans: A Black-Tie Event
February 12, 2016 marked a first in the history of Classical Academy: the first Battle of the Caimans. The Winter Spirit Week was entirely dedicated to a new Red vs Black-themed pep rally, with sign-ups for each team posted in the Great Hall throughout the week. Three spirit days, including Pajama Day, -ER Day and Twin Day, led up a huge finale on Friday.
The Battle of the Caimans served as a substitute to the Boys vs Girls Pep Rally that had previously been held at the end of Winter Spirit Week. After a group of students protested, several open forums were held to discuss the topic, and ASB ruled in favor of changing the entire subject of the rally. A battle between students was a must, and several ideas were pitched, but a final decision was eventually made to host a light-hearted war between the school colors themselves.
The pep rally began with both teams separated in Caiman Hall, Red on one side, Black on the other. Scores had already been counted up for the spirit days, and Black Team had held the lead by several points. However, the winner could be anyone; there were still plenty of games to be played.
To kick off the rally, students in both red and black took the stage and danced for their respective teams. Boys and girls of all ages showed off their moves to songs in correlation to whatever color they were wearing. For freshman Angela Bacardi, a Red Team representative, the dance was nothing she hadn't done before. "I am actually on the Freshman Dance Troupe, and I have actually performed at the Performing Arts Concerts," Bacardi said. As far as picking her own team, it wasn't her choice to begin with. "They put us in a line and just pointed at us and said, 'Red, black, red, black.' I was just randomly selected, I did not pick for myself … Red doesn't seem to be a very popular color, but I like it."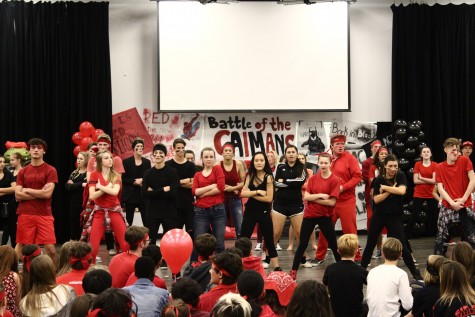 This year's pep rally lent itself to various opportunities for friends to team up and have fun. Freshman Robert Colello represented Black Team in a game that required you to pop a balloon tied around your ankle using only your feet. "My friends did it, and I just wanted to do it. So, I just asked Ally, the main leader, and she put me in the games," Colello said.
Several games were held at the pep rally. The victories of the Teacher Relay Race, the Balloon Pop and several cheering competitions belonged to Red Team, whereas the singing of the Fight Song, Family Feud and Tug-of-War found themselves won by Black Team. The cheers of students filled the air, and team spirit was high.
After a long week of spirit days and a huge pep rally, the scores were counted and the points tallied up.
The first Battle of the Caimans had resulted in a tie.
There wasn't much cheering after the final scores had been announced. Sophomore Caedon Palmer, a member of the Black Team, was not happy with the end of the rally. "I think it appeased some people," Palmer said, "but overall made some people angrier. I would've rather lost than tied." Some even went as far as accusing ASB of planning the tie from the start. "I didn't like the tie. I feel like someone should win. They lead up all this stuff for a competition and decided no one's going to win," freshman Dylan Stuflick said. However, confirmation from ASB President, Danny Miller, has concluded that the tie was not planned, and both teams did end up scoring the same amount of points.
Although the Battle of the Caimans was thoroughly enjoyed by a large group of students, there were those who, similar to last year, were opposed. A list of students, primarily boys, represented the "Blue Team" in support of the Boys vs Girls Pep Rally of previous years. This list included sophomore Calvin Arend, one of Blue Team's founding fathers. In Arend's opinion, ASB should have either brought back the Boys vs Girls Pep Rally, or gotten rid of Winter Spirit Week entirely. "I was very disappointed by the fact that they decided to remove the Boys vs Girls Pep Rally. I think the whole "Red vs Black" thing was very stupid and they shouldn't have had a pep rally at all. The whole thing was just people screaming," Arend said. But, why Blue Team? Arend says that the name was in honor of the Boys vs Girls Pep Rally. "In that pep rally, there was a Blue Team, which was the boys. We decided to keep that Blue Team continued on and so we kept that Blue Team," Arend said.
However, the popular opinion was in favor of this year's rally. Seniors Max Burns (ASB vice-president) and Sam Schuhler (ASB co-dance director) served as the leaders of Red Team and Black Team, respectively. As the faces of the Pep Rally, they led the team dances and sparked spirit throughout Caiman Hall. After weeks of toil and labor, ASB had prepared a new Pep Rally in hopes of appeasing the student body. Their hard work paid off; both Schuhler and Burns agreed that this was the most successful Winter Pep Rally to date. "I think this year has been the funnest one so far because of the energy that ensued," Burns said. "People really got behind the idea of being a single team united under one color." . As a veteran member of ASB, Burns had the opportunity to know the inner workings of last year's and this year's Pep Rally. However, for Schuhler, this was his first year as a member of ASB, so he was given a new perspective on the Pep Rally. "I wasn't on ASB last year, so this is my first time being behind-the-scenes … I think I preferred this year because it was my job to have fun," Schuhler said.
Strong opinions for both arguments surfaced, but based on the success of the pep rally, it's most likely that the Battle of the Caimans will be held again in years to come.
What team will you be on?
Leave a Comment