CAHS begins the school year with the First Day of School Assembly
After two and a half months of summer break, school is officially in back in session for CAHS. This marks the school's eleventh year, with its largest student body yet: 1,237, as of Sept. 7, 2016.
In addition to more students, Classical also has a number of new faculty members, among them Bethany Montgomery, a new receptionist. In regards to the beginning of school, she said, "It's been really good. The first couple days, it was crazy … but now it's slowed down a lot, which is a lot nicer." There are also several new security guards this year and a newly-established tardy and truancy policy, which has been controversial among the student body. Senior Elizabeth Peek agreed, "It's fair. It's disrespectful to the teacher and your classmates if you come in late."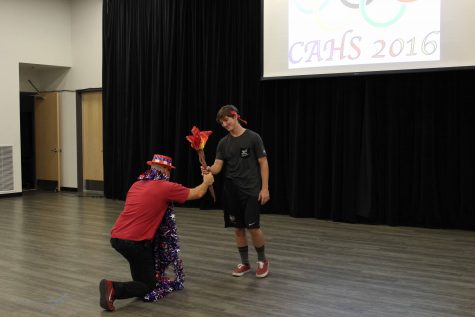 Students and teachers convened on Monday, Aug. 29 for a half day, wherein students spent 15 minutes in each of their assigned class periods. The highlight of the day was the First Day of School Assembly, featuring routines from the various performance teams: cheer, dance and flag, as well as announcements about sports teams.
Perhaps the most well-received part was the introduction of the faculty via the "CAHS 2016 Olympics." Teachers performed in various categories of "Olympic sports," such as throwing baby dolls, hurdling over trash cans and putting on a synchronized swimming act, to the entertainment of the student body.
Freshman Elizabeth Reimann expressed her excitement for coming to CAHS after the First Day of School Assembly, saying, "People are very happy, very positive. The atmosphere's a lot better than I thought it would be, and everyone was very accepting and welcoming."
View Comments (2)