Traveling Yosemite National Park—the Ambuul Way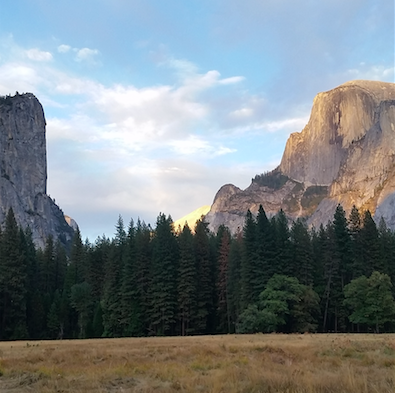 Road trips. Gotta love 'em. But you haven't taken a road trip until you've taken it with a family of 10.
A couple weeks ago, my family, along with my Aunt Diane, took a seven-hour road trip to both Sequoia and Yosemite National Parks.
Spilled snacks, not enough leg room, "I'm cold," "I'm hot," crying babies, petty arguments — all within the cramped space of our 12-passenger van. It's an existence I've grown used to — considering I've experienced it for as long as I can remember — so this road trip wasn't going to be as torturous as you might think.
On the way, my aunt told me the story of a vacation she had taken with her big family as a child. During the whole trip, they had kept a log of every detail they had found noteworthy. Immediately, my mind turned to the notebook in the bag at my feet.
From that time on, that notebook came with me on every hike, car ride and excursion into town. Nearly nothing went undocumented, and what follows is an exact copy of those entries. Hopefully you enjoy reading about my family and every mishap we experienced. It was truly a trip to remember.
10/7/16— Just picked up Aunt Di. On the first turn, Dad went straight.  
So, my dad's a bit directionally challenged. No omen is a bad omen, right? Plus, we got it straightened out within minutes with a single phone call. So on we drove: Sequoia or bust.
10/7/16 12:30pm (Sequoia National Park)— Set up lunch picnic, left 5 minutes later because we got attacked by bees.
We had just made it into the park, and the kids were crying for justice (and sandwiches). We had found a nice little spot underneath the trees to stop and set up our picnic. It was a spread to behold: squished bread, warm jelly and peanut butter and at least five large bags of chips. Calories don't seem to count on vacation. Alas, the picnic gods were not in our favor. For some reason, all of the bugs in the entire park decided to go there on lunch break or something, because halfway through our sandwiches we were in basically in a cloud of yellow jackets. Being the smart one, I had thought ahead and put on a very thick layer of bug spray. I'm pretty sure I was immune for the rest of the trip. The rest of my family, however, was not so lucky. We hightailed it on out of there, chip bags in hand.
10/7/16 1:26 pm— Julia and I took a highly illegal picture out of the car's sun roof. It's awesome.
It is pretty awesome. Evidence: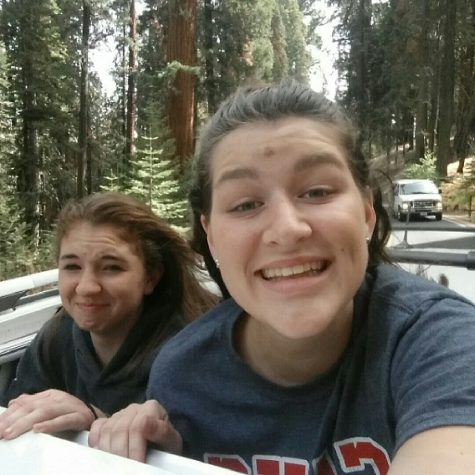 10/7/16 2:32 pm— Just got back from a half-mile hike to General Sherman. The tree was big. Also, Michael threw a fit about chapstick and Nathan "couldn't walk."
For those of you who might not know, General Sherman is the largest tree in the world. It's about 45 minutes or so into Sequoia, and my dad was really excited to take a hike down to see it. We all got out of the car and made the trek for about 0.5 of a mile, which feels like 10 miles when you have 2 boys under the age of 3 with you. Michael (2) thinks that he can kick it with the big kids. That always falls apart when he hits the uphill. Nathan (3) doesn't even pretend like he wants to walk. On this particular hike, we were all antsy from just having been in the car for ages, so there were kids running left and right. Once we got to the tree, it was…well, it was a big tree. When something has a title with the words "in the world" following it, you always seem to be disappointed once you see the real thing. Though it was pretty cool to find out that Sherman is 2,300 years old. Not only is it a big tree, but it's also older than Jesus. "The more you know."
10/7/16 6:20 pm— We've arrived at our cabin in Mariposa. Everyone's unpacking. Really happy because I actually brought a toothbrush on this trip.
I'm not a heavy packer. Ninety percent of the time I end up forgetting important things. The last few trips we've taken as a family, I've left my toothbrush behind. I'm pretty sure I've visited a CVS in every state on the West Coast. It's honestly a win-win, because I come home with a shiny new souvenir toothbrush. I will admit, I had to run back inside within minutes of our leaving the house to grab it. Anyway, the cabin was cozy and decently stocked with movies. I usually judge a house by the amount of Disney movies it has, so if I were using that scale it would get about a 2/10. "Race to Witch Mountain" and Season One of "Little Einsteins" doesn't exactly cut it for me. Though the latter did keep Nathan very entertained for extended periods of time. I guess I'll bump it up to a 3.
10/8/16 8:19— Everyone's up and getting ready. "Karate Kid" playing in the background. The good one, by the way, not the Jaden Smith one. We're classier than that. Last night, I got kicked in the head repeatedly and Michael was screaming and jumping up and down in his crib for hours. We think it was the ice cream.
So, there are a few things to comment on in this entry. First, we had to wake up at the crack of dawn because we needed to be in Yosemite by at least 10:30. Mariposa, the town we were staying in, is an hour outside of the park. If you factor in getting all of the kids fed, showered, and dressed, that brings us to around 7:30. That might not seem so bad, but after being kept awake until 2am due to the conditions described above, it felt like a lot earlier. It was my dad's birthday the day before, and we had a cake, but no frosting. My aunt and two of my sisters went into town in search of a grocery store, which apparently didn't go so well. We ended up with some extremely off-brand vanilla ice cream, which Michael ate his fill of. Sugar highs and little kids do not mix.
10/8/16 9:42am— Off to Yosemite! Everyone's in the van today…Fingers crossed for minimal disasters.
10/8/16 12:01pm— Taking a picnic in the park behind El Capitan. Scenery is gorgeous, there are butterflies everywhere. We're right by a little creek, and I'm pretty sure we're all gonna get hypothermia from playing in the water. Thankfully, there are considerably less bees.
This picnic absolutely blew the first one out of the water. I had no idea that Yosemite was going to be so incredible. The rocks were towering so far above us that my neck would start to hurt from looking up. Every inch of the valley was teeming with all sorts of life. I would say that it was like something from a movie, but no amount of Hollywood special effects could possibly capture the extent of its beauty.
The area my mom found for us to set up lunch was just as amazing as the rest of the park. We had music playing, and the sandwiches were ham and cheese this time (high-quality). That little creek kept us entertained for hours—even though it felt like the Arctic Ocean. At one point I actually thought my feet were going to freeze and fall off. Of course, I barely noticed for most of the time, because why focus on losing appendages when you're standing behind one of the most famous rocks in the world?
El Capitan surpassed its title, by the way. Yosemite should really be called "most beautiful place in the extended universe," in my opinion.
10/8/16 1:56pm— Michael feels the need to climb over every single rock or piece of wood we encounter on the trail.
We were on our way up to a place called Vernal Falls. As evidenced by its name, it's a waterfall. Which usually means it's at the top of a mountain.
Of course, why wouldn't you take a hike labeled "strenuous" on the guide map when you have 7 kids with you? It's the only sane thing to do. Just ask my mom and dad. Don't get me wrong, I enjoy hikes, just not with a caravan of complaining kids.
As per the usual, Michael insisted on walking himself. In an astonishing turn of events, so did Nathan. Each of them were troopers, scaling every slightly elevated piece of earth they found.
Then we hit the hill. Nathan decided to cry about walking as well as refuse to be carried. That's a new record for him.
10/8/16 3:08pm— Got to the Vernal Falls footbridge after a 1.5 mile hike. Almost started going back on a horse trail. After much debate on what trail to take back, we're taking the same one we walked up here on.
Extremely defeated after wrestling with children on a hike that had led us straight up for its entirety, we recharged with snacks at the bridge and decided to head back down. By "we," I mean literally everyone except my parents, who somehow were still very energetic and wanted to go on, even after carrying the babies on their backs the whole way up. Their decision was overturned by the committee, which consisted of all of the thirsty and tired children in the family.
Studying the map for the best trail back proved a challenge of its own, and it took at least 10 minutes to come to a conclusion. So we descended, amid stares and not-so-conspicuous whispers of "Would you ever bring all of those kids on a hike, Margaret?"
I asked myself the same thing, lady, and look where I ended up. I think Margaret would have made up her mind by now.
10/9/16— Walked to St. Joseph's for church. Reminded me of those little churches you see in old movies with ladies wearing frilly dresses and big hats. I'm sure it was like that at some point. On the way back, we stopped at a 50s-style diner called "Happy Burger." I almost couldn't walk home due to a food coma.
Sunday morning offered bright sunlight and back cramps from the previous day. One of the kids thought it would be a great idea to walk two miles to church.
Of course, my mom thought that was a fantastic idea, so off we went. The ten of us walking down the street in the little town was most likely a spectacle in itself.
We made it to St. Josephs just 10 minutes late for 10:30 mass, which might not have been a problem if the church wasn't the size of our living room. We're not very good at being quiet. Though we may have been the greatest uproar in the building since it's construction in 1863, it proved to be a very beautiful little piece of the past.
Wandering Mariposa feels like turning the pages of a history book; it's a hidden gem that has remained well-hidden. Speaking of hidden gems, Happy Burger is a marvel in itself. The walls are covered in record cases, the food is delicious, and they have both Coke and Pepsi products in their soda fountain. I know this isn't a review article, but I absolutely would recommend Happy Burger if you ever find yourself in Mariposa. It's no wonder I couldn't walk home after eating a burger the size of my sister Lucy's entire face.
10/9/16 1:48pm— Back to Yosemite for more hiking. Hoping to check out the visitor's center and hotel. Maybe convince dad to do a less insane hike.
For the record, we didn't go to the visitor's center or the hotel. The visitor's center was like a mirage or something; all of the signs pointed to something that wasn't there. We did go on a much less strenuous hike. This was my personal favorite day, as I did some death-defying climbing and saw the best sunset of my life. More on those later.
10/9/16 3:47— Mom took an accidental detour and we ended up at "Tunnel View." It was incredible. Also, there was a huge tunnel cut out of the mountain and I was able to hold my breath the second time through.
Tunnel View is famous for being the best sightseeing area in the park. Once you drive to the spot, you can basically see the whole valley—every rock and tree and mountain. I'm not sure where my mom meant to drive, but I'm glad we ended up where we did. I thought about adding a picture here, but I'm not sure any camera could do it justice. It's just something you have to experience for yourself.
Anyway, we kept driving and came upon this tunnel that seemed like it had no end. Immediately, everyone in the van became ecstatic, because family tradition dictates that one must hold one's breath through any and all tunnels we come across. Winning the tunnel game is like winning the Olympics to an Ambuul. Bragging rights for a whole five minutes? Absolutely worth the risk of asphyxiation. None of us were successful the first time through, but I had learned from my mistakes on the way back and was ready for a second round. Taking a small breath is crucial to winning the tunnel game.
It might sound crazy, but the smaller the breath, the longer you can last. I listened triumphantly to the gasps for air as everyone else in the car dropped out like flies. I, however, had my eyes on the prize. We neared the end of the tunnel, my lungs screaming in protest and—boom. We exited into daylight. What a win. Of course, I took my prize like a true sportsman and limited the bragging to around 3 minutes. Mostly because everyone was yelling at me to quit it.      
10/10/16 9:00am— We've just left Mariposa and are on our way home. About yesterday, we went on a hike to lower Yosemite Falls, which was completely dry. Welcome to California. I climbed a tree that was growing sideways because Julia said she would give me a dollar. It felt like I was gonna fall and I was probably 10 feet above ground that was covered completely in rocks and there were bugs everywhere. But I got the dollar, so it was worth it. At sunset, we stopped in the field in front of Half Dome. It was probably the most spectacular sunset I'd ever seen. Overall, this was an awesome trip.
My final entry was written in the car while driving back through Mariposa. I didn't really have time the day before to update the journal, because we were busy hiking and didn't end up back at the cabin until late.
What I've written about really isn't sufficient to describe the previous day. Here I recounted only major details, like the crazy stunt I tried on that tree. Laugh if you will, but I genuinely thought I was going to fall and break something. What I did leave out were some of the little things that made it so fun, like finding little caves and exploring them with my siblings, or when I told my sister Eva that the waterfall would start at any second and she ran away screaming.
The definite highlight of the day, though, was seeing that sunset off of Half Dome. We pulled the car over simply because of how breathtaking the color of the rock was as the light bounced off of it. You could see people standing and staring like they were watching angels descend. As we came to a stop, I jumped out of the car and ran directly into the middle of the field, drawn to the view like a magnet.
Once in a quiet place, I sat and watched. I watched as the rock face turned from gold to a brilliant orange, and finally back to a dusty gray. If I could, I would have sat there all night and waited until the sun rose behind it. I found myself drinking in every detail of the scene—the sound of the swishing grass, the feeling of wind on my face, the sight that could bring a grown man to tears. I couldn't have asked for a more perfect closing to a wonderful trip. If nothing else in this piece persuades you to visit Yosemite, I hope that the sunset does.
This vacation taught me quite a few things about what a real happy ending is. Maybe it was courageous for my parents to plan this trip, or maybe it was insane. All I know is that no matter how many bees attack, no matter how many water bottles are thrown, and no matter how many times we have to stop for a bathroom break, there's always gonna be an incredible sunset to make up for it.