Ready, Set, Spike: Varsity Girls Volleyball CIF 2016
The Caimans Varsity Girls Volleyball Team annihilated competition so far this year—they went into the CIF playoffs as the undefeated Pacific League champions.
"Volleyball this year has been absolutely amazing," senior player Bridget Stephenson said. "Our team has come together to reach our goals, and we've had fun while doing it. [I] "…never thought I could have this much fun while playing a sport."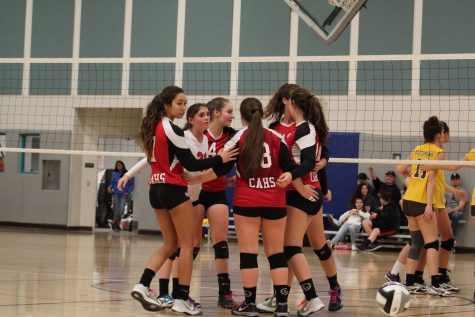 In order to advance to CIF playoffs, the volleyball team had to prepare and build their skill level as a team. The team "had an intense couple of weeks where we focused on defense, and our offense placing balls exactly where we wanted them," senior player Jennifer Otto said. "Also, we worked diligently on serving, which definitely paid off as we got a record number of aces for the season and missed only two serves out of all four games played tonight."
In their first Division 3 CIF playoff game, the Caimans won 3-1 against El Camino High."The best play would have to [have be[en] in the final game where we had a really long rally, and we just couldn't put away the ball, and then one of our hitters got an amazing kill and ended the play for us!" Otto recapped. "Everyone worked so hard in that rally that it made it that much sweeter."
For those of us not proficient in volleyball jargon, a "rally" is when the receiving team gains a point and the right to serve. The players then rotate one position clockwise. A "kill" is a successful, legal, point-scoring play.
According to sophomore player Cassidy Nelson, the main reason why the volleyball team has been able to attain such a level of mastery is: "trust. Volleyball is a team sport and you won't ever succeed without trusting and believing in people you share the court with," she said. "Volleyball is ¼ skill, ¼ mentality, and ½ trust. Believing in yourself isn't enough; you need to know that each and every player was put on Varsity for a reason and trust that they will execute the job they were meant to do."
However, focus and confidence also played a role in helping the team excel. Sophomore Hada Haaland reveals that the girls on the volleyball team "cut out all of our distractions and got rid of all doubt in order to reach our highest peak. We were relieved and extremely happy." When asked about how he
r leadership skills have flourished from being an underclassman on the Varsity Girls Volleyball team, she said, "I feel like I'm held at a higher standard, and I always want to do better for my team and help them out whatever way possible."
The close-knit relationships of the volleyball girls has also helped their prowess on the court. Bridget Stephenson said,"To prepare for CIF, we set goals at the beginning of each week and continuously push to train hard during practice, which will show in our games. The friendship between all of our teammates is what has kept our chemistry strong on the court, and I am so grateful to be a part of it!"