Are You Red-y to Lose? Black Team Comes Out on Top
On Feb. 10 this year, the second annual Battle of the Caimans commenced as friends and foes alike went head to head in a showdown. Students signed up for teams in the yellow hall on a sheet merely labelled Team One and Team Two. In order to split the teams more evenly this year, ASB chose to keep the team names a secret, announcing a week before the pep rally that Team One was red and Team Two was black.
In preparation for the pep rally, ASB worked diligently to prepare the posters, the games and the opening co-ed dance with participants from both teams. The preparation for the pep rally is something Freshman ASB President and Red Team member Nicky Redd has never experienced before but, as a member of ASB, Redd learned firsthand about all the work needed to make sure the pep rally is flawless.
"[In the week before the pep rally,] we first [have to] make sure that the dance is ready, and then we have each game set up. …  We make sure that everything is finalized in the planning. We pull out kids from class that are doing the games and the dances to make sure they know what they're doing when it's time for them to go on stage," he said. "It's been pretty fun, because you get to see how everything works and how ASB plans everything the month before to see what they want to do in the assembly."
Throughout the week leading up to the event, students dressed up for various spirit days, such as flannel day and decades day among others. The Friday of the pep rally, students donned their team colors and mocked each other.
After last year's controversial tie, some students were apprehensive about the possibility of the same outcome this year. But, in the end, the black team triumphed over the red team with a score of 17-15.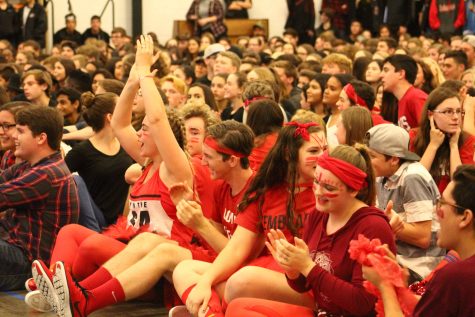 For sophomore Olivia Vukovics, the win this year was a far cry from last year's results. A Black Team member, Vukovics said, "[When they announced the results] I was happy that, A) there wasn't a tie and B) that, since I was on black team, we won. [I felt] so happy and excited."
Vukovics also believes teacher participation in Winter Spirit Week—such as participation in dress up days and the annual teacher lip syncing battle between to "We Will Rock You" by Queen— is an effective way to bridge the gaps between the staff and students. "I think [teacher participation in the pep rally] helps them build better bonds with their students. I think it's a big thing that they get to know their students better and interact with them."
Sophomore Aidan Preston, who was on Red Team, believes the Battle of the Caimans is a valuable way for students to let loose amidst hard classes and schoolwork. "All competition isn't good, but a friendly competition between the students is a little bit of a fun time, and it just gives the students a chance to relax and have fun amongst themselves in between classes. I think it's just important that we all just take a break once in awhile. I feel like everyone enjoys the competition," Preston said.
When asked about the pep rally's importance, Preston responded, "[It's important to remember that] we're all Caimans, and we all come back to the same foundation, and we [should] just have a good time." No matter what team colors you donned this year—whether you slathered black paint across your face or went all out with your red clothing—the second annual Battle of the Caimans was a time to unify the student body by reminding us that, competition or not, we are all caimans.