Caiman Buddies: You've Got A Friend In Me
Looking to make some new friends? Play games? Participate in fun activities after school? The Caiman Buddies Club is just what you need!
After learning about Best Buddies International, an organization that creates opportunities for people with developmental disabilities, freshman Blake Connors and his friend started the Caiman Buddies Club "to help kids with Intellectual Development Disorders (IDD) that were sitting alone at lunch feel more welcome at school." Connors loves how the students with IDDs "don't really care what other people think of them," and says it has been "just great to have [people around] who are always happy."
The Caiman Buddies Club members began their meetings about a month into the school year. "It started as just a couple friends hanging out, and it's developed a lot. It's been real fun," said freshman Alec Williams.
Even though the club has only existed for a short amount of time, the club members have made some inseparable bonds. Williams says the club has "done a couple of bowling events" and that it has "given us the chance to better know kids like juniors Tanner [Wolfe] and Evan [Williams] … It's been really cool just to see them bowl and talk to them."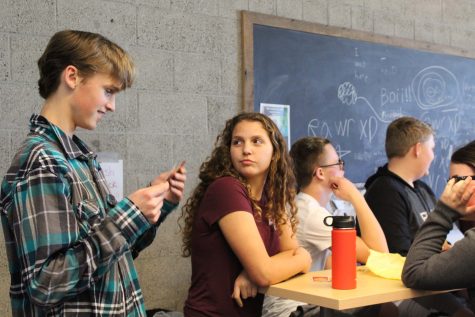 The club "plays games together at lunch," and, according to freshman Lily Wolfe, the club  has been a splendid way to "give [students with special needs] an opportunity to have fun with their peers." When asked about the positive impact of the club on others, she responded that it has been "really nice to help other people and make them smile and stuff."
Williams recalls the personal skills he has obtained from being a part of this club: "Personally, I think it's made me more aware. There's a lot of stereotypes going around about kids with disabilities, and it's really just about making friendships."
Connors' favorite part about being a member of the club is "see[ing] how much happier the special needs students are [now that] they're always included in the groups that [club members] sit with during lunch."
Connors says that "if [more students] were to join the Caiman Buddies Club, it would make [kids with IDDs] feel a lot more welcome just to know that they have friends."