Varsity football battles against Santa Fe Christian While Balancing Sports and Academics
Last Friday, the football team played against Santa Fe Christian. The victory ultimately went to their competitors. However, it wasn't decided until the last few seconds of the game. The final score of the game was 28-20.
The football athletes started practice at the end of the summer and have continued through the school year. While most students feel the pressure in keeping up with all the work, athletes have to manage completing homework and studying while dealing with drills and daily practices every weekday plus games.
Everyone in high school needs to complete homework. However, as a student athlete, it can be a challenge when assignments are due on days where they must leave early for practices or games. When asked if the teachers are sympathetic about the work they must turn in, there were some different answers.
Communication is key when working with the instructors. Senior Thomas Gehman gave a positive response. "Well as long as I give them a heads up, like if I have an early release for a game [I'll] tell them in advance and I usually try to do that… if I'm going to be missing something or turning [in] something late… they're usually really understanding" Gehman said.
There are teachers that do understand there are extracurricular activities including sports that are important to student life but their specific classes have accelerated schedules and there is no room for falling behind. As Sophomore Christopher Hershey mentions, "Not really, they kind of say you've got to get it done…I get home later, so there isn't much time to do my homework so I have to balance [it]."
When a game comes up, Gehman has learned that "…it's definitely hard to balance school and football…but it's my senior year…and by this time I've kind of figured how to balance it but sometimes it's hard to. There's definitely pressure."
As for Samuel Schaefer, he mentions that it is a challenge. "Sometimes the work load's a lot and sometimes it's not. Usually, if it's a heavier workload… [I work on] the weekends and get it done…[But when game day arrives]…You just put everything aside and get focused on the game."
When asked if it was harder being an older player versus a freshman when combining competitive sports with academics, there was definitely a difference of opinion among the student athletes.
Hershey felt freshmen had it the hardest "because they have to learn everything and manage their time with extracurriculars. They also have to learn how to play the game."
Schaefer expressed that it was harder as a junior. "To be honest because of the workload…this year, I have had the most schoolwork and so football definitely takes a lot of time…practice is like three hours of my afternoon."
Senior Thomas Gehman feels like it's harder this year, "because…there's more pressure on your performance…[and] more responsibility I have…unlike freshman year, there wasn't as much responsibility. Yes, I think it's harder this year."  
Some interesting things come up when you ask an athlete about how they try to prepare for an upcoming game. Some avoid eating junk food or sugary things, trying to eat healthier. Others listen to music to focus and mentally execute what they need to do in the competition.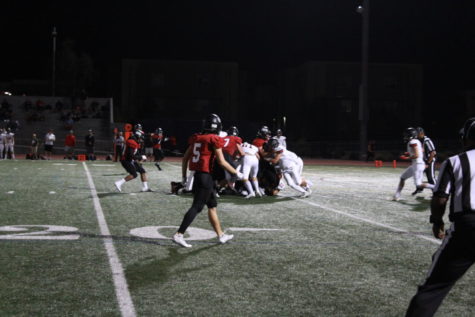 Gehman does this while he listens to Christian and worship music, "…I actually used to listen to hype music but it got me way too hyped before a game… I like to be calmed down now."
Another aspect of being an athlete in school is how to complete homework or concentrate in class when exhausted from the exercise. The following day after a particularly grueling practice may just make waking up difficult, let alone listening, learning, and participating in class. However, all of the players agreed that while exercise is hard, most enjoy it because it is beneficial.
However, when Schaefer was asked if there is a particular drill he didn't really like, he mentioned "Truth push-ups" which he explained are regular, wide, and inside pushups and they start at an eight count and decrease by two each time,"…and it's right after your arms are super tired from benching all morning" said Schaefer.
There are times that things don't go so well during practice and it can throw off the players. It's just another thing they must deal with during the school week. Gehman states, "There are definitely bad [ones]… we try to fix [our mistakes] and come back stronger the next day and just learn from the [ones] that we made.
Each of these students were preparing for Friday's game against Santa Fe Christian differently. Having that weighing on their mind all week could be stressful but all the athletes seemed to take it in stride.
Gehman thoughtfully said, "We're not really doing anything different. They run the same exact plays they did last year so we are just watching our game film. I played them last year and [we are] just trying to improve."
At the end of the week when students who don't do sports are getting ready to relax, the student athletes are preparing for competition. The football team heads out together and before a game they meet for dinner.
Gehman states, " As a team we usually go to Chipotle for our team dinner then [we] come back to school and we do our commitment cards where we commit goals to our partner. Then we watch highlight reels of the previous week and then we get on the bus and that's what we do."
Schaefer mentions another way the team prepares, "We always pray before our game, especially asking for protection."
Balancing academics and sports can be rewarding, as Senior Gehman states, "My favorite part [of football] is just being around the guys all the joy that it brings most of the guys have been here since freshman year so growing with them and working with them that's what makes it so special; just the brotherhood of the football team."