Students gather for the Visual and Performing Arts (VAPA) Assembly
On April 28 students and staff assembled in Caiman Hall to enjoy performances by the Visual and Performing Arts department.
Dressed as Disney princess Moana, senior Ciara Atencio kicked off the assembly with a lively performance of "How Far I'll Go." Atencio was accompanied by the Pep Band.
The next performance was an unforgettable routine by the Flag Team. In their last public performance, the captains went with a more unique theme: "Star Wars." Similar to last year's VAPA performance, the Flag Team turned off the lights, creating a thrilling story.
"It was really the idea of Coral and Kayla, our captains," freshman Grace Carlson said. "They really wanted to do a really cool story for our routine instead of doing just a regular routine for their last public assembly performance. 'Star Wars' was a really good opportunity to express their story."
Senior Coral James, one of the captains, shared similar thoughts. "[The goal was] really doing something that the audience would love and already be familiar with — be really engaged in. I felt like we just took it up a notch and went out with a bang," James said.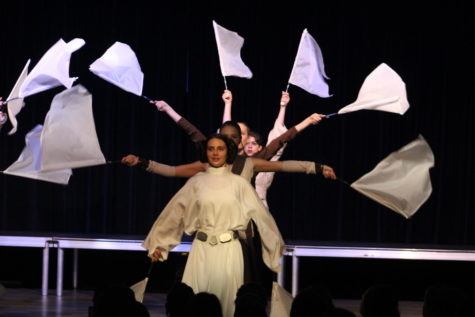 After the flag routine, seniors Alex Redd and Manny Escobar, accompanied by junior Nick Lux, invited the audience to participate in a hilarious improv performance. The object of the game was for Redd to guess what crime he had committed, without knowing what the crime was. The victim, location and weapon were chosen by students in the audience while Redd was in a different room.
To close the assembly, the cast of "All Shook Up" gave students a sneak peek into the upcoming show and what to expect of it. The musical is filled with energetic dance numbers based off Elvis Presley hits, which, according to cast members, makes for a highly invigorating performance. "The show has so much energy packed into it in such a small amount of time," junior Ali Rohrbaugh said, "and plus, there are a bunch of us that you probably know in the cast, so come see your friends if you want to have fun." All Shook Up shows are Thursday, May 25, till Saturday, May 27, in Caiman Hall.
View Comments (1)