An Overview of Glowchella 2018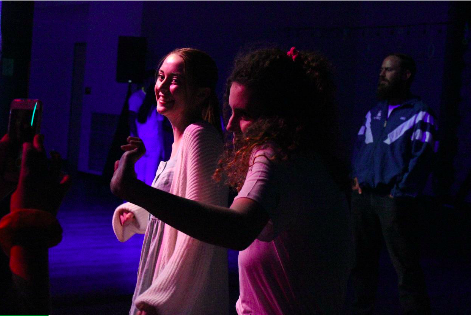 Hang on for a minute...we're trying to find some more stories you might like.
Coachella: a festival of music, dancing and art.
Glowchella: a dance with music, glowsticks, and blacklights.
Glowchella 2018 was packed to the brim with students and teachers alike, dancing the night away. Caiman Hall was aglow — literally — with spotlights roving over the dance floor. A massive projection of a lit-up Ferris wheel spun on one wall, while the others were kept bare. All of this, along with the pulsing, eardrum-rattling music, created an effect of being somewhere other than school, other than a dance.📰 It felt like bona fide Coachella, save for the spring breeze that's sure to cross the outdoor festival.
The food, however, was nothing like Coachella's exclusive line-up of vendors. Instead, it was a classic(al) high-school buffet table of junk food and snacks, from store-bought chocolate eclairs to Cheeto puffs. As one could imagine, it was quickly reduced to a pile of MSG-tainted crumbs.
Like Coachella, the 2018 Glow Dance also featured live music with the staple Classical karaoke booth.
From dancing wildly to screaming into a microphone, Glowchella was one of a kind.