PAVE members spread awareness about sexual assault on Valentine's Day
Students in the lunch quad on Wednesday were greeted by a small table covered with pastries, flyers and stickers, and manned by several members of the school's PAVE chapter.
Passers-by grabbing cookies were met with a smile and "Welcome to PAVE!" from spokeswomen such as seniors Anastasia Reimann, Grace Davis and chapter founder Michaela Clark.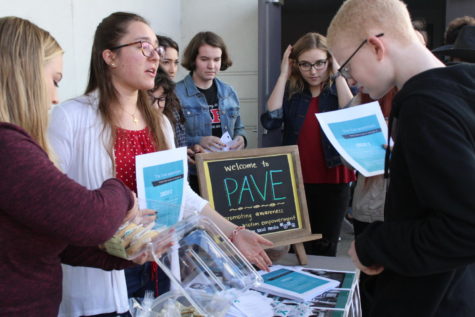 Along with the cookies, the girls passed out blue flyers topped with the words "Consent Is" in large block letters.
Promoting Assault Victim Empowerment, or PAVE, is a national organization dedicated to education about and prevention of sexual assault. Clark discovered it in a time of personal darkness, and found healing in its mission.
"The summer before my junior year, I was sexually assaulted, and I was really struggling with … the healing process: figuring out what was going on and how to get over what happened and start to feel better about it," said Clark.  
"I was trying to turn it into something positive, because I've always been a big believer in 'everything happens for a reason.' There's always a positive outcome to something negative. So I was Googling different resources for survivors, and I found PAVE."
For Clark, the story of PAVE's founder, Angela Rose, hit close to home. "She was kidnapped. And she was around the same age as I was, so that story was really inspiring to me— that she took something so horrible and turned it into something so inspiring and uplifting."
Clark felt that Rose's message of survival and education was important to spread. However, she didn't immediately decide to begin a chapter in school.
"Originally I was thinking 'oh I'm gonna create one near my house' because there's [sic] not many close by … and then I thought … this is a really great opportunity to educate a high school campus about how prevalent sexual assault is and spread the word about what a healthy relationship means. That's turned into something really positive for me because I'm able to help other people understand the situation and help other people in the same situation as me feel better about it."
Member Quinn Doval believes in the importance of striving to "really spread the word that [sexual assault] is a lot more common than people think". She sees her membership as an opportunity for her to combat instances of sexual assault with increased awareness. "The more educated people are, the more people can stop a bad situation or just avoid it all together."
Their mission for the Valentine's Day event was to spread the word about their group. "I personally believe that the biggest piece in preventing sexual assault is starting the conversation," said Clark. "My goal for today was to get the word out and get the conversation started, even if I couldn't talk to every single student. Get those flyers handed out, get those posters handed out, get people talking about it."'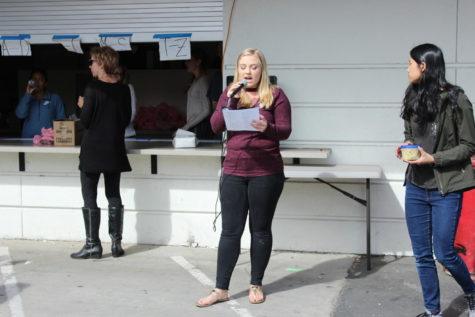 Clark hopes that the club continues to grow in the following years, even after she graduates. "My dream …  is for us to have an assembly … [and] have Angela come and talk and educate everybody about consent because consent applies to everything in a relationship. That's something I really want to strive towards … but I'm really hopeful that that can happen one day. I think that it's possible."
PAVE meets every Thursday in the school's conference room to talk about ways to educate each other about the frequency of sexual assault and the ways it can be prevented.
If a student has been affected by sexual assault, says Doval, "then there's a place to talk about it and a place to be accepted … People are never really alone in that situation."