Senior Cormac Bate Discusses His CAHS Greenhouse Project
As the year comes to a close, a select few of the school's senior boys have been plugging away at the good ol' fashioned American tradition of Eagle Scout projects. While many Boy Scouts striving for the rank choose to complete their projects off-campus, resident Scout and senior Cormac Bate has kept his enterprise close to home … or school, rather.
His greenhouse, which houses sits right outside the back entrance of our very own Classical Academy High School, and is a testament to 7 months of hard work by a small team of both amateur and experienced architects, all led by Bate.
Surprised to hear that the project was spearheaded by a student? So was I. The team, which included a mixture of students, members of the Bate family and even some of the CAHS staff worked an (unintentionally) covert operation, assembling the parts of the greenhouse on weekends and a few stray Mondays. Bate is quick to acknowledge the help he received from countless people.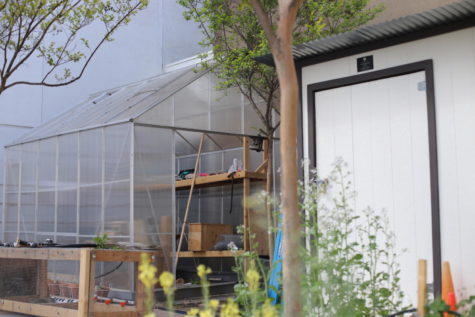 "You had to fill out all these forms, go to all these places, talk to all these people," Bate said of the process. "[I] would go talk to some various companies that owned the supplies and …would tell them 'Hey I'm doing my eagle scout project, would you please give me like a discount or something' and a lot of the time they would give it to us." Using this method of community networking, Bate was able to knock the project's price tag back by thousands of dollars. 
"We also asked around some of our friends and some of our scouting buddies to see if they could maybe lend a hand. Mr. [Andrew] Segina, he owned an auto-tiller and that was really helpful, because the dirt was super dry so it broke up the dirt, made it easier."
With the aid of numerous scouting friends, schoolmates and even CAHS staff members, Bate was able to complete the project amidst challenges and changes to the original design. "There used to be four trees on the dirt lot and I was retaking some measurements between them, and then one day [the school's landscaper] just happened by, and we started talking and I got him to remove one of the trees that was blocking one of the original plans," he said.
Though Bate came up against multiple measurement issues and redesigns, he doesn't hesitate in saying that the greatest challenge of the project lay in the mass of paperwork required by the Scouts.
"Boy Scouts is really bureaucratic nowadays," he said. "If you want to even start building you have to get four different signatures from four different people, including Mr. [Dana] Moen, someone who helped me with the organization of the whole packet. The packet is massive, it's like as thick as this laptop here," he says, pointing to my Macbook. "You have to finish out the whole thing to finish out the project."
"It's a lot of running around, a lot of emails, a lot of organizing meetups, making sure that you got everything before you can start. Because if you start building before you have the first four signatures, the entire project is moot."
Despite this, Bate is happy with the lessons he learned in networking and is overall proud of the work he completed — according to him, "it looks more nice [sic] than when [they] started."
"It's been a strenuous thing, but the end result is definitely worth it, like the pride you have: 'Ah, I built that,'" he said. "I really hope that everyone's gonna get some kind of use out of it … it was definitely worth the process."