It's all Galactic to me: CAHS Drama Department puts on a Sci-Fi Version of 'Julius Caesar'
"Et tu, Brute? Then fall, Caesar!" Everyone has heard this line, and for countless years, "Julius Caesar" has been publicly praised by critics and readers around the world. Thus, many traditional fans might  agree that a galactic rendition of this play could not compare to the original work by Shakespeare.
However, director of the drama department Mr. Spencer Farmer, proved this statement wrong. Mr. Farmer modified one of Shakespeare's most celebrated plays and provided the audience with an "out of this world" experience.
With the assistance of their teacher, the drama club students put on a stellar performance. The stunning cosmic makeup and costumes put together by stagecraft students as well as the passionate acting put forth by the actors made the lack of props unnoticeable.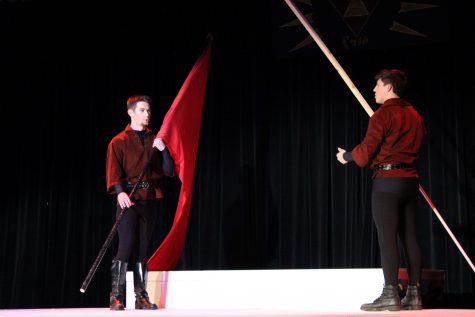 Some students even played multiple roles in this production. Senior Matthew Reynolds, who played two senators, a guard and a member of ensemble, thought the most challenging part of bringing this script to life was "making sure you have makeup that can convey status, but then also change over to a different character, which requires you to do plenty of quick changes that often leave you pressed for time."
Sophomore Damaris Eddy played the roles of Calpurnia and Cinna the Poet. Her Calpurnia role was "physically challenging" because it required "piggie-backing someone else for hours at a time …on a harness … [Senior Breanne Pancarik] was doing most of the work," Eddy said, "and it was still hard for [her]."
Although daunting, Damaris finds herself "lapsing to that sort of mindset" and relating to her character's nurturing nature."Calpurnia was a mother and a wife, and sometimes [she's] sort of like a mother to [her] friends," Eddy said. "They'll be like, 'I haven't eaten today' and [she responds], 'I'm going to buy you food.'"
Eddy was not the only actress who could relate to her character on a personal level. Senior Emily Coffey, who played Brutus's wife Portia, said, "Everybody's been concerned for somebody that they love … and wants to make sure that they're doing the best thing for themselves, so I think everybody can relate to caring deeply about somebody." One of her favorite parts of the production was "Act II, Scene I … because the whole crowd gets really intense and starts screaming."
Senior Manny Escobar "also tr[ies] to apply the role as much as possible to [his] own life, because Brutus is a complicated character and has a lot of mixed feelings. In the play he is very unsure whether or not he should kill Julius Caesar, because he's such good friends with him, [so] Brutus [tries] to take thought of that and show it through words and gestures."
Manny also felt a personal connection to his role, saying, "It's funny that I can really relate to Julius and Brutus' relationship. I can relate [it to] my relationship with one of my good friends."
Although this production was unlike most of the plays delivered at Classical Academy High School, students such as Eddy would "definitely [do it] again … because the drama class as a group [is] just so supporting and loving … [she would] do anything for them."