Sports Recap: Varsity Football Plays the San Diego Cavers in the Homecoming Game
Our new sports recaps attempt to provide brief, concise summaries for some of the games our sports teams play in.
The varsity teams: The Classical Academy High School Caimans vs. the San Diego High School Cavers
When: Oct. 6
Where: Home at San Pasqual High School
Final Stats: Cavers won, 47-29
6:55 p.m. – Caimans and Cavers come together at center field for the coin toss with the Caimans deciding to have the Cavers receive at kick-off
7:00 p.m. – Cavers return the kick to the forty yard line
7:05 p.m. – First touchdown of the game, Cavers 7-0
7:11 p.m. – A complete pass to Ethan Pillsbury (number 20) who run its into the end-zone, 7-7
7:14 p.m. – Capers return from kickoff for a touchdown 13-7
7:20 p.m. – Interception by the Cavers sends them near the Caimans end-zone
7:24 p.m. – Touchdown for Cavers 19-7
7:32 p.m. – End of First Quarter
7:49 p.m. – 45 yard run by Ethan Pillsbury leaves the Caimans at first and goal
7:51 p.m. – Ethan Pillsbury scores the second Caiman touchdown of the night 19-14
7:53 p.m. – Touchdown Cavers after receiving the kick-off 27-14
8:13 p.m. – End of second quarter and the start of half time
For the halftime show the Classical Academy classes of 2022-2030 walk in front of the stands as per Homecoming tradition.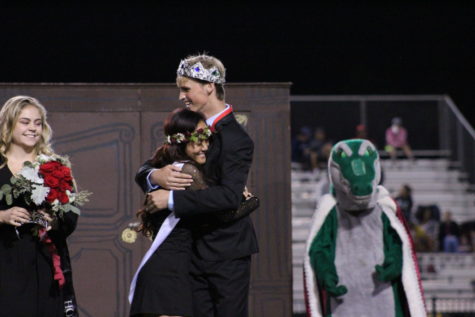 The Homecoming Court is presented, and the titles of Homecoming King and Queen are awarded to Tanner Wolfe and Daryl Goh.
8:35 p.m. – Third quarter begins
8:40 p.m. – Jake Gilbert injured and taken off the field
8:47 p.m. – Touchdown Cavers 33-14
9:04 p.m. – Diego Preciado 25 yard touchdown 41-23
9:10 p.m. – End of third quarter
9:14 p.m. – Caimans sack the Cavers' quarterback, turnover at the 20
9:27 p.m. – Touchdown by Cavers 47-23
9:42 p.m. – A last second tackle by the Caimans saves the scoreboard from an additional six points for the Cavers as they fumble the ball.