Homecoming game ends in a flash
The cheering of students, friends and families in the bleachers was not the only thunderous sound on the night of Oct. 12. During halftime of the long-awaited homecoming game, a thunderstorm caused the festivities to come to an end much earlier than expected. Nevertheless, the score at halftime was 38-0, with the Caimans in the lead.
The game was a unique experience for fans and players alike. "I thought it was a pretty fun experience … It was raining the whole time, so [that] was a first for us," varsity quarterback junior James Duncan said. "It was a whole new experience especially because of the homecoming game … All the seats were filled. It was pretty awesome."
According to senior and Pep Band member Emily Cowell, the harsh weather proved to be hazardous to the band's instruments. "Instruments, especially metal ones, are not meant to get wet. Luckily there wasn't any major damage to instruments, but there was slight water damage to some of the instruments that need to be repaired," Cowell said.
Sophomore Wesley Adams, who is currently a member of the JV Boys Water Polo team, found a silver lining in the dark clouds. "I mean, I jump in a pool every day, so it's not the first time I've been wet for a school [event]," Adams said. "It was also fun because you can make fun of the rain, because we were all like, 'hey, we don't know what this is, because we live in San Diego!'"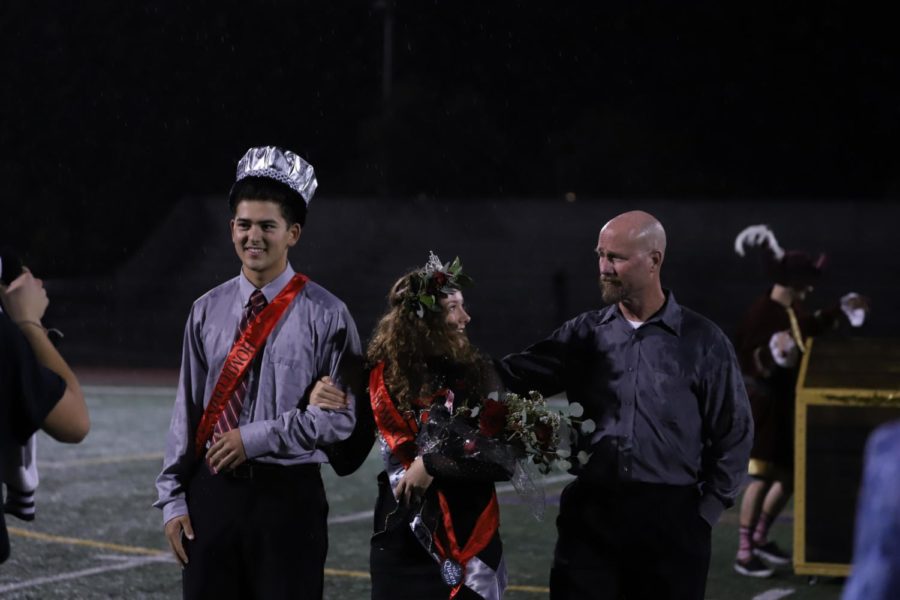 Despite the storm, ASB was still able to announce the homecoming king and queen during halftime as per homecoming tradition. This year, seniors Elliot Pak and Amie Smith took the crowns. Smith was shocked to see her name on the poster. "You read your name and it's like, 'is that actually my name?' And then you read it again, and it's like, 'oh my gosh.'
"It was so fun. I think that it was interesting since it started raining right after, and the [fact that the] game was canceled made it really interesting and exciting," Smith said. "Definitely not like a normal game would go."